Press Release
/
Oct. 10, 2012
SCAD announces School of Building Arts Lecture Series events for October and November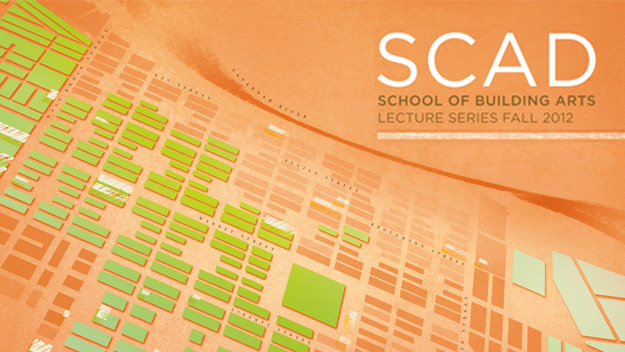 SAVANNAH, Georgia —
The Savannah College of Art and Design is pleased to present three new events as part of the 2012 SCAD School of Building Arts Lecture Series. Held at the SCAD Museum of Art at 601 Turner Blvd., the series connects students and the larger design community with industry professionals who exemplify this year's theme: The Next City. The lectures are free and open to the public with admission to the SCAD Museum of Art.
The Fall 2012 SCAD School of Building Arts Lecture Series events for October and November include the following:
"Precedents and Possibilities"
Oct. 25, 5:30 p.m.
Architectural Digest's former contributing editor Jeffrey Simpson and noted Italian architect Andrea Ponsi explore the evolutionary process of design and the roles of precedent, perception, patterns and sensibilities in the built environment.
In addition to his role at Architectural Digest for 20 years, Simpson has authored numerous books on design such as "Rose Cumming: Design Inspiration," published in 2012 by Rizzoli International. Andrea Ponsi is a distinguished Italian architect, educator and author who has lectured and exhibited internationally. His books include "Florence: A Map of Perceptions," published by the University of Virginia Press in 2010, and "Thinking Lines," 2002.
"Authenticity"
Nov. 1, 5:30 p.m.
How can we communicate authenticity and sincerity through interior design, while still exploring the abstract and surreal? Andee Hess, interior design principal for Osmose, creates compelling environments with a strong story and concept that enriches the experience of life. Her work has been featured in numerous design publications, including Wallpaper, Metropolis, Surface, and Interior Design magazines. Over the last two years, her designs have won Interior Design Magazine Best of Year merit awards.
"Making Space: Technology, Flexibility and Community in the Creative Economy"
Nov. 8, 5:30 p.m.
Coleman Gutshall is director of strategic projects for Bernhardt Design, an internationally recognized leader in furniture design. Drawing from pop culture, industry research and personal observations, Gutshall will discuss the geography of the contemporary office and the role of spatial design in facilitating creativity and innovation.
In addition to furniture design, Gutshall has also worked in venture capital helping manage portfolio companies. Gutshall earned his bachelor's degree from Washington and Lee University and his master of business administration degree from the University of Virginia.
For more information, visit scadmoa.org or call 912.525.7191.
SCAD: The University for Creative Careers
The Savannah College of Art and Design is a private, nonprofit, accredited institution conferring bachelor's and master's degrees at distinctive locations and online to prepare talented students for professional careers. SCAD offers degrees in more than 40 areas of study, as well as minors in nearly 60 disciplines in Savannah and Atlanta, Georgia; in Hong Kong; in Lacoste, France; and online through SCAD eLearning.
SCAD has more than 20,000 alumni, and offers an exceptional education and unparalleled career preparation. The diverse student body, consisting of more than 11,000 students, comes from 49 states and more than 100 countries worldwide. Each student is nurtured and motivated by a faculty of nearly 700 professors with extraordinary academic credentials and valuable professional experience. These professors emphasize learning through individual attention in an inspiring university environment. SCAD's innovative curriculum is enhanced by advanced, professional-level technology and learning resources and has garnered acclaim from respected organizations and publications, including 3D World, American Institute of Architects, BusinessWeek, Design Intelligence, U.S. News & World Report and the Los Angeles Times.