Press Release
/
Feb. 8, 2013
SCAD and KI to co-host design forum focusing on health care's built environment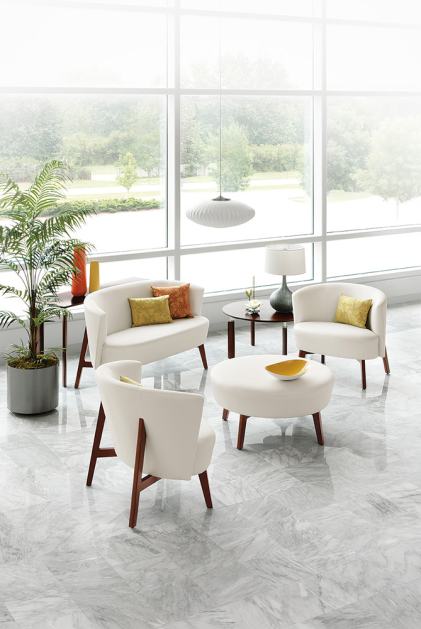 /Learn from industry experts about evidence-based design and textile design as applied to health care./
SAVANNAH, Georgia —
Innovation in health care isn't limited to the medical technology, equipment, or pharmaceuticals that keep patients happier and healthier. The design of their physical environment is often just as important, helping calm and reassure those undergoing tough procedures while helping health care providers improve their quality of care.
This month, two international design leaders come together to explore the importance of design in health care's built environment. The Savannah College of Art and Design interior design program, ranked No. 1 in the nation for 2013 by DesignIntelligence, and KI, a leader in health care and education furniture manufacturing, present the forum "Designing for Healthcare," Feb. 13-14, at the SCAD Student Center, 120 Montgomery St., Savannah.
Featured topics include evidence-based design and certification from the American Academy of Healthcare Interior Designers (AAHID).
"Health care design has undergone evolutionary changes within the last decade, quickly moving to the forefront of our discipline. Consumers are demanding more human-centered, inclusive design in all aspects of the health care environment," said Khoi Vo, chair of interior design at SCAD. "The Designing for Healthcare forum seeks to engage students, educators and professionals in this pivotal conversation, placing human wellness front and center in the interior design profession."
Presenters include KI's Vice President of Health Care Deborah Breung, RN, BSN, MBA, EDAC. With a background in nursing and business, Breunig brings unique experience and expertise to health care customers, regularly conducting training on health care trends and issues. A registered nurse, Breunig earned a bachelor's degree in nursing (BSN) from the Bellin College of Nursing in Green Bay, Wisconsin, and a Master of Business Administration from the University of Wisconsin.
Jocelyn Stroupe, principal/director of health care interiors at Cannon Design, AAHID, IIDA, ASID, EDAC, will also speak. With more than 25 years of industry experience, Stroupe effectively connects planning, programming, branding and facility management with cohesive, comforting interior design. She is the current president of AAHID and is an Evidence-Based Design Accredited Professional (EDAC) with the Center for Health Design. She is also an advisory board member at the Illinois Institute of Art, and a member of the board of advisors at the University of Tennessee College of Architecture and Design, where she earned her bachelor's degree in interior design.
The event's third presenter, Carolyn Quist, director of operations at The Center for Health Design, first developed an interest in the health care built environment when she worked as a residential treatment provider at a psychiatric facility for adolescents. She built on this interest by writing her master's thesis on the sociological, psychological and cultural impact of the hospital environment on patients and staff. Quist earned a master's degree in interdisciplinary studies from the University of Washington and a bachelor's degree in sociology from Western Washington University.
The event is free and open to interior design professionals and SCAD students, faculty and staff. For more information, contact SCAD interior design professor Charles Boggs.
Media inquiries may be directed to Sunny Nelson at 912.525.5225 or Aiden McGuire at 920.468.2395.
About KI
KI manufactures innovative furniture and wall system solutions for education, health care, government and corporate markets. The employee-owned company is headquartered in Green Bay, Wisconsin, and operates sales offices and manufacturing facilities in the United States, Canada, Latin America, Europe and Asia. KI tailors products and service solutions to the specific needs of each customer through its unique design and manufacturing philosophy. For more information, visit ki.com/green.
About interior design at SCAD
At SCAD, interior design students are immersed in a professional environment that engages and challenges them to take on the role of a career designer. SCAD offers an unparalleled interdisciplinary setting in which students gain professional knowledge in related fields such as architecture, historic preservation and furniture design. Students learn from professors who bring a vast breadth of experience and first-hand industry knowledge into the classroom. Leading interior design firms seek SCAD alumni who possess a comprehensive education and skill set that enables them to specialize within the field. SCAD offers Bachelor of Fine Arts, Master of Arts and Master of Fine Arts degrees in interior design.
SCAD: The University for Creative Careers
The Savannah College of Art and Design is a private, nonprofit, accredited institution conferring bachelor's and master's degrees at distinctive locations and online to prepare talented students for professional careers. SCAD offers degrees in more than 40 majors.