Feature
/
Nov. 5, 2013
SCAD alumnus Colin Tunstall takes New York and Japan by storm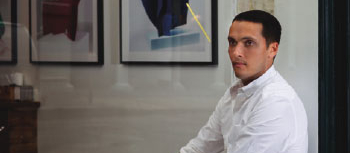 Image source: SCAD
Colin Tunstall was fresh off earning his graphic design and photography degrees at SCAD when he headed to New York for a career in the publishing industry.
A few years later, after successfully adding to his portfolio work for big-name magazines — GQ and Esquire among others — Colin (B.F.A., graphic design, photography, 2003) yearned for something more, and Saturdays Surf NYC was born.
The shop, with its flagship location on Crosby Street and a satellite in the West Village, is now firmly established in the New York surf scene as the premier spot for surfboards and gear. Saturdays Surf NYC has its own distinct line of sought-after clothing — including collaborations with big names including SHUT, Malwitz Custom Surfboards and Colette — books and even coffee.
Colin is also promoting a strong sense of community in the heart of the big city.
"I'm in New York now, but I still see a lot of the same faces from SCAD," he says, "A lot of people have moved up to New York and are doing wonderful things," including several fellow alumni who have helped the Saturdays dream come true.
As creative director and cofounder of a prospering retail business, Colin uses his SCAD education in everything, from designing graphics for clothing and maintaining the company blog to publishing the glossy, 300-page Saturdays Magazine.
Accomplished in both graphic design and photography, Colin immediately took to the diverse requirements of his dream job.
"Those majors definitely play a role in what I'm doing right now," he says. Having done everything from coining the name and designing the logo himself to making coffee and selling T-shirts, he's no stranger to the fusion of hard work and creativity — and has been greatly rewarded for his efforts.
Since founding Saturdays in 2009, Colin has been named by GQ as one of the Best New Menswear Designers in America, curated a signature collection for Gap, and taken the company global with the opening of overseas outposts in Tokyo and Kobe, Japan.
Receiving hype from sources including Complex Style, Hypebeast, and Highsnobiety, the Pacific-based stores continue the Saturdays tradition of embracing surf culture in the heart of a thriving urban sphere.
Whether paddling out from the famed shores of Queens' Rockaway Beach or gearing up after the short train ride from Tokyo to Chiba, Saturdays empowers weekend warriors to get out of the city and get their feet wet — anywhere in the world.
Colin says the confidence required to build this surf empire from the ground up was nurtured during his years at SCAD.
"SCAD is very progressive," he says. "Everything I learned there, from spending time in the darkroom to learning different photography and design techniques, made me believe I could do exactly what I wanted to do."
Connect with Saturdays Surf NYC
---
About the SCAD graphic design program
While rooted in traditional design foundations, students in graphic design degree programs learn how to design for emerging technology and media through courses in form and space, art history and fluid design for the Web and mobile applications.
Learn more about the graphic design program today.
About the SCAD photography program
SCAD photography degree programs offer both a solid set of foundational skills and the opportunity for a student to tailor the course of study to his or her strengths, interests and professional goals.
Learn more about the photography program today.