Press Release
/
Feb. 26, 2013
SCAD alumni honored with Academy Awards for innovation in film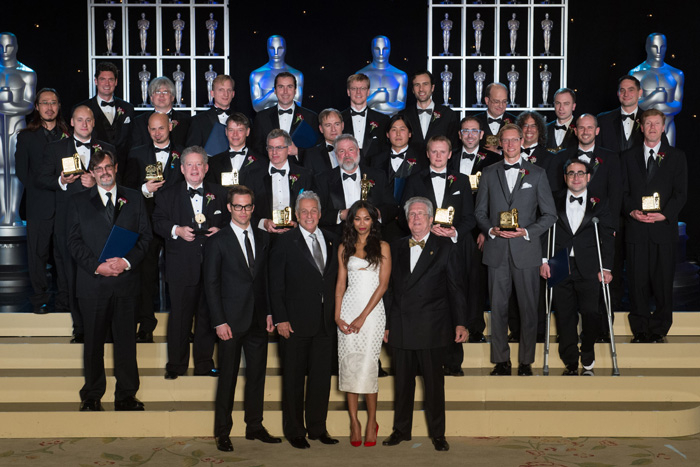 /Winners of Academy of Motion Picture Arts and Sciences' Scientific and Technical Achievement Awards gather for a photo after the award presentations Feb. 9. Photo by: Richard Harbaugh/©A.M.P.A.S/
SAVANNAH, Georgia —
The Academy Awards, the pinnacle of achievement in Hollywood, recently honored two SCAD graduates for their innovative contributions to the film world.
Nickson Fong (M.F.A., computer art, 2002) and Steve LaVietes (B.F.A., computer art, 1996) received individual awards at the Academy of Motion Picture Arts and Science's Scientific and Technical Awards presentation Feb. 9 at The Beverly Hills Hotel. They were among only 25 individuals honored for scientific and technical industry achievement.
Unlike other Academy Awards presented this year, the Scientific and Technical Awards honorees need not have developed and introduced their work in 2012. These achievements instead demonstrate a proven record of contributing significant value to the process of making motion pictures.
Fong was honored along with collaborators J.P. Lewis and Matt Cordner for the invention and publication of the Pose Space Deformation technique, which was used in films such as "Avatar" and "The Lord of the Rings" series to make the characters more life-like.
According to the Academy, "Pose Space Deformation (PSD) introduced the use of novel sparse data interpolation techniques to the task of shape interpolation. The controllability and ease of achieving artistic intent have led to PSD being a foundational technique in the creation of computer-generated characters."
Fong, who was honored with a SCAD Outstanding Alumnus award in 2003, has worked on the Academy Award-nominated films "Starship Troopers," "Stuart Little," and "The Patriot," and the Oscar-winning film, "Shrek."
LaVietes, along with partners Brian Hall and Jeremy Selan, won for the creation of the Katana computer graphics scene management and lighting software originally developed at Sony Pictures Imageworks. Katana has been used in films such as the Academy Award-nominated "Sherlock Holmes" and "Alice in Wonderland," and the Oscar-winning "Avatar."
The Academy had high praise for LaVietes' work. "Katana's unique design, featuring a deferred evaluation procedural node-graph, provides a highly efficient lighting and rendering workflow. It allows artists to non-destructively edit scenes too complex to fit into computer memory, at scales ranging from a single object up to an entire detailed city."
The Academy gave additional kudos to SCAD alumni with the Feb. 24 presentation of the 85th annual Academy Awards. The film "Life of Pi" was honored in the best visual effects category; more than two-dozen SCAD students and alumni from programs ranging from animation to visual effects contributed to the award-winning film. And as technical lighting director for Disney-Pixar's "Brave," Max Bickley (B.F.A., visual effects, 2008), shared in that film's win for best animated feature.
View the Academy Awards press release for more information.
About the SCAD School of Digital Media
Throughout the SCAD School of Digital Media, the educational model emulates professional experience. Students work with current, industry-standard hardware and software, learn from faculty who are practitioners as well as mentors, and have opportunities for collaboration. Courses enhance and facilitate creative expression while emphasizing vital production skills and techniques. The SCAD School of Digital Media offers undergraduate and graduate degrees in animation, interactive design and game development, motion media design, television producing and visual effects.
SCAD: The University for Creative Careers
The Savannah College of Art and Design is a private, nonprofit, accredited institution conferring bachelor's and master's degrees at distinctive locations and online to prepare talented students for professional careers. SCAD offers degrees in more than 40 majors.