Press Release
/
Sept. 6, 2012
SCAD alumna Althea Brown wins Telly Award for her film "Double Agent"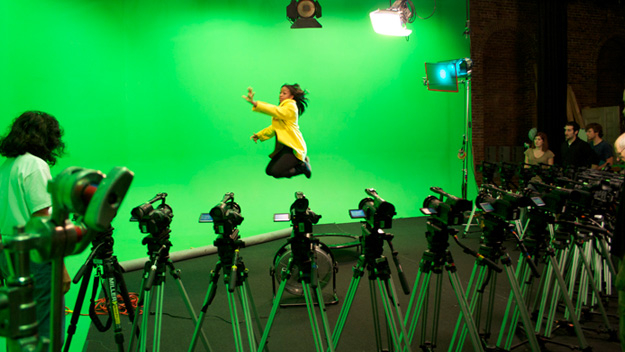 /Photo courtesy of Brianna Hackler/
SAVANNAH, Georgia —
Savannah College of Art and Design alumna Althea Brown recently won a Bronze award in the 33rd Annual Telly Awards for her short film, Double Agent. Brown directed the film and co-wrote the script at SCAD while completing her M.F.A in Film and Television. The award is the eighth Telly Award for Brown, an Atlanta-based freelance director of film and television.
Double Agent, the story of a female special agent with superhero powers, was shot in Savannah, Ga. over several weeks in January and February 2011. Brown believes the film's crew, comprised completely of SCAD students, was a key factor in Double Agent's success. "There were so many people at SCAD who were interested in being involved," said Brown. "Everything came together, and this film showed me how important it is to have a good crew behind you."
Another factor in the project's success is the unique visual effects used to enhance the film's strong overtones of action and magical realism. Brown and her crew created 63 visual effects shots for the 12-minute film. According to Brown, Double Agent is the first film shot in Georgia to use the camera array effect.
"The camera array effect is similar to that used in the movie The Matrix when the character 'Neo' bends backward and the camera does a 360 degree pan around him," said Brown. "For Double Agent we set 20 cameras in a semi-circle and took one frame from each camera to make it appear as though the actress is spinning in the air."
In preparation for the film, Brown took a compositing course from SCAD visual effects professor Stuart Robertson. Additional support from the SCAD community came from the film's director of photography, Zach Karamalegos, producers Blake Feldman and LaToya Porter, visual effects supervisor Murat Gonul, and co-writer A. Joshua Hawks.
Double Agent can be seen at film festivals this fall including the Urban Mediamakers Film festival, which runs October 12-14 in Atlanta, Ga.
The Savannah College of Art and Design: The University for Creative Careers
The Savannah College of Art and Design is a private, nonprofit, accredited institution conferring bachelor's and master's degrees at distinctive locations and online to prepare talented students for professional careers. SCAD offers degrees in more than 40 majors.
The Telly Awards
Founded in 1979, The Telly Awards is the premier award honoring the finest film and video productions, groundbreaking web commercials, videos and films, and outstanding local, regional, and cable TV commercials and programs.