Press Release
/
May 31, 2013
Savannah College of Art and Design holds Commencement ceremonies in Savannah, Atlanta, Hong Kong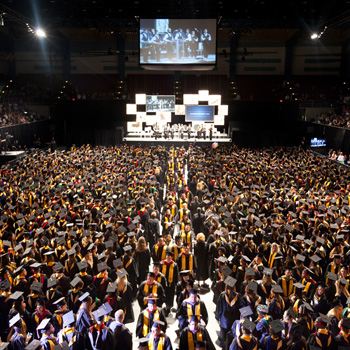 SAVANNAH, Georgia —
Nearly 2,000 graduates will participate in Savannah College of Art and Design's Commencement 2013 at the university's locations in Savannah and Atlanta, Georgia, and Hong Kong this week.
Architect, urban planner, educator, theorist and author Moshe Safdie will deliver the commencement addresses at the Savannah and Atlanta ceremonies Saturday, June 1, while Hong Kong graduates will receive their degrees on Friday, May 31.
A prolific architect for more than 50 years, Safdie is particularly well known in Georgia for his 2006 design of the state-of-the-art Jepson Center for the Arts in Savannah. He has completed a wide range of cultural, educational and civic projects including neighborhoods and public parks, mixed-use urban centers and airports, and master plans for existing communities and entirely new cities around the world.
Safdie's experimental town of stacked housing units in Montreal, known as Habitat 67, is widely considered a revolutionary design in the history of architecture and one of the most recognizable and significant buildings in Canada. The beehive-like housing complex landed Safdie on the cover of Newsweek and was classified a historic monument by the Quebec government in 2009.
Integral in the rebuilding of Jerusalem, Safdie is responsible for major segments of the Old City's restoration and reconstruction of the new city center, linking the old and new cities. Many of his firm's buildings have become beloved regional and national landmarks, including Salt Lake City Public Library, Salt Lake City, Utah; Peabody Essex Museum, Salem, Massachusetts; Skirball Cultural Center, Los Angeles, California; and Toronto Pearson International Airport, Toronto, Ontario, Canada. Major international projects Safdie Architects is currently constructing or has recently completed include a national museum of the Sikh people in the Punjab, India; the United States Institute of Peace Headquarters in Washington, D.C.; a high-density residential project in China; and the Crystal Bridges Museum of American Art in Bentonville, Arkansas, for Wal-Mart heiress Alice Walton.
SCAD will honor the following individuals as 2013 valedictorians, salutatorians, excelsus laureates, presidential medalists and honorary degree recipients:

SAVANNAH
Valedictorian
Naomi Ayelet Fox graduates with a B.F.A. in fibers. Following her older sister to SCAD, Fox quickly found her niche in the fibers department, exploring diverse mediums and fabricating layers of texture by weaving, knitting and crocheting. Her inspired work won her a host of honors and she was named a Ralph Lauren Intern Project finalist, the 2013 Cotton Incorporated Competition winner in the collaboration category, and a Karin Shier Memorial Scholarship recipient. Today, Fox is an assistant designer at the New York City office of Keeco LLC, a textile and apparel design firm.
Salutatorian
Charlotte Catherine Kirby-O'Connell graduates with a B.F.A. in animation. At SCAD, Kirby-O'Connell quickly gravitated toward rigging, a subspecialty of animation and the perfect marriage of science and art. Using specialized technologies, Kirby-O'Connell developed a control system, or 'rig,' to sculpt facial expressions, define muscle movements and breathe life into an imagined character. Her student work was exceptional and led to six internship offers her junior year alone. In the end, she chose two: Witmer Lab, a paleontology lab in Ohio, where she researched dinosaur anatomy for her senior thesis; and Blue Sky Studio in Connecticut, where she rigged props and background characters for such animated features as "Epic" and "Rio 2," which are scheduled for release in 2014. Immediately following graduation, Kirby-O'Connell will begin a rigging internship at the Motion Picture Company in New York.
Excelsus Laureate
William Glen Penny graduates with an M.F.A. in painting. Penny joined SCAD's university community in 2006 to pursue his undergraduate degree in painting and later returned to pursue his M.F.A. Over the past few years, Penny has received impressive honors: the Dean's Fellowship, Outstanding Achievement Award in Painting, Portfolio Award, Josh Yu Painting Scholarship and International Student Scholarship, among others. He has exhibited in the United States and Canada and participated alongside international artists during the SCAD 2013 deFINE ART program. This spring, pushing his art into new dimensions, Penny received the commission for the 2013 SCAD Fashion Show set installation. After graduation, Penny plans to pursue a career in post-secondary education and to continue exploring the possibilities of painting through exhibitions, private commissions and community-oriented projects.
Presidential Medalist
Elizabeth Winnel graduates with an M.F.A. in painting. Winnel earned a B.F.A. in illustration from SCAD, through the course of which she studied at SCAD Lacoste, interned at a contemporary art communications firm and organized group exhibitions. Before returning to SCAD for graduate studies, Winnel lived in New York and worked as a painter and studio assistant. With an extensive résumé of exhibitions, awards and teaching experience, Winnel is both an accomplished painter and businesswoman, who has cultivated various artistic collaborations, most recently licensing her artworks for clothing and jewelry.

ATLANTA
Valedictorian
Abagael Warnars graduates with a B.F.A. in interior design. She cofounded and served as president of the Atlanta Art History Society, where she campaigned to raise awareness of art history programs. A natural leader, Warnars served as vice president of the Interior Design Organization and volunteered during university breaks, restoring homes and building community centers in disinvested communities around St. Louis, Missouri, and Chicago, Illinois. Warnars also studied at SCAD Hong Kong. An Academic Scholarship recipient and Tau Sigma Delta member, Warnars was recognized in the IIDA Best of the Best Awards. The organization created a special recognition award to honor her work in the IIDA Student Sustainability Competition. Following graduation, Warnars plans to continue to study the anthropological implications of design, with focus on the needs of nomadic cultures and how those translate into modern building arts.
Salutatorian
Andrew B. Jordan graduates with a B.F.A. in painting. He received Artistic Merit Scholarships as well as the 2011 Glenda Knight Keyes Prize for Outstanding Talent. As a painting student at SCAD, Jordan worked intensely, fueled by years of conceptualized but incomplete artworks, even spending his breaks as a night security guard painting self-portraits using a borrowed mirror. Jordan's art explores concepts of mortality and infinity, experimenting with a variety of pigments with a laboratory-like methodology. He sees himself in the paint, as transparent as watercolor, as opaque as acrylic, as lush as oil, always changing but forever connected to the painters who came before him. After completing his studies in the fall, Jordan returned to his hometown of Birmingham, Alabama, where he continues to create fine art. He has accepted a number of commissions and is working with local art patrons to increase awareness and support of the arts.
Excelsus Laureate
Ben Rollins graduates with an M.F.A. in photography. He enrolled at SCAD Atlanta in 2010 and soon began to distance himself from the digital work he mastered in his home of West Texas, returning to large format film and manually developing prints. His goal was simple: to create art with his hands. Over the past few years, Rollins has worked with such nationally lauded companies as HGTV and the Turner Broadcasting System. Long-term freelance projects have taken him to China and Belize, where he documented international humanitarian work. Most recently, Rollins' work explores the infinite connections between people and their environments, advocating that a portrait is relational and interactive, a conversation and an opportunity to engage. In the coming months, Rollins will become a father. Armed with a shining M.F.A. from SCAD, an ever-lengthening lineup of commissions, and a beautiful new family, Rollins' future is sure to be bright.
Honorary Degree Recipient
Augusten Burroughs is the celebrated author of numerous bestsellers including the memoir "Running with Scissors" and the self-help book "This Is How: Proven Aid in Overcoming Shyness, Molestation, Fatness, Spinsterhood, Grief, Disease, Lushery, Decrepitude & More. For Young and Old Alike," which was released in paperback in May.
A successful advertising copywriter for more than 17 years, Burroughs was also an alcoholic who nearly drank himself to death in 1999. Spurred by a compulsion he did not understand, Burroughs began to write a novel. Never outlining or consciously structuring the book, Burroughs wrote "as fast as I could type, to keep up." Seven days later, Burroughs had written his first book, "Sellevision," and had stopped drinking. "Sellevision" remains his only published novel and is currently in development as a feature film.
Burroughs' second book, "Running with Scissors," was a publishing phenomenon that helped to ignite a memoir fever in the publishing industry, and it ultimately was made into a movie. Released in 2001 to unanimous critical acclaim, the memoir remained on the New York Times bestseller list for more than four consecutive years, spending eight months at number one.
Burroughs has since published four additional autobiographical volumes, "Dry," "Possible Side Effects," "Magical Thinking" and "A Wolf at the Table," all of them bestsellers.
SCAD: The University for Creative Careers
The Savannah College of Art and Design is a private, nonprofit, accredited institution conferring bachelor's and master's degrees at distinctive locations and online to prepare talented students for professional careers. SCAD offers degrees in more than 40 majors, as well as minors in more than 60 disciplines, in Savannah and Atlanta, Georgia; in Hong Kong; in Lacoste, France; and online through SCAD eLearning.
SCAD has more than 25,000 alumni and offers an exceptional education and unparalleled career preparation. The diverse student body, consisting of more than 11,000 students, comes from all 50 U.S. states and more than 100 countries worldwide. Each student is nurtured and motivated by a faculty of nearly 700 professors with extraordinary academic credentials and valuable professional experience. These professors emphasize learning through individual attention in an inspiring university environment. SCAD's innovative curriculum is enhanced by advanced, professional-level technology, equipment and learning resources, and has garnered acclaim from respected organizations and publications, including 3D World, American Institute of Architects, BusinessWeek, DesignIntelligence, U.S. News & World Report and the Los Angeles Times.