Press Release
/
April 23, 2012
Robert Jepson to address SCAD commencement; actor James Cromwell to receive honorary doctorate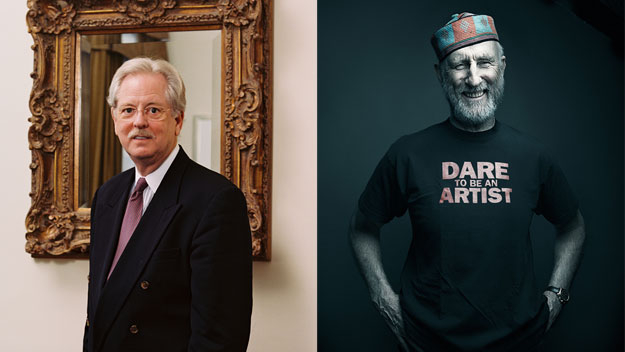 /Robert S. Jepson Jr. and James Cromwell/
SAVANNAH, Georgia —
Robert S. Jepson Jr., nationally recognized and respected for his business acumen, civic leadership and commitment to the arts and education, will address the Savannah College of Art and Design graduating class of 2012 at commencement ceremonies in Savannah and Atlanta, June 2. Jepson will speak to graduates at SCAD's 32nd Savannah commencement ceremony, 9 a.m., at the Savannah Civic Center, 301 W. Oglethorpe Ave. He then will address the graduates at SCAD Atlanta's sixth commencement ceremony, 6 p.m., at the Georgia World Congress Center, 285 Andrew Young International Blvd. N.W.
Academy and Emmy Award-nominated actor James Cromwell, known his roles in "24," "L.A. Confidential," "Babe" and, most recently, "The Artist," will be honored with an honorary doctorate at the university's Savannah ceremony.
Philanthropist Alice Jepson, known throughout the Southeast for her work on art and education initiatives, will also receive an honorary doctorate at the Savannah event.
Robert S. Jepson, Jr.
Robert S. Jepson, Jr. is the chairman of the board and chief executive officer of Jepson Associates Inc., a private investment company located in Savannah. He formerly served as chairman and CEO of the New York Stock Exchange-traded manufacturing company Kuhlman Corporation from 1993 until its sale in 1999. Prior to that, Jepson founded and was chairman and CEO of the Jepson Corporation, which he grew into a Fortune 500, NYSE-traded company before its sale in 1989. He has served on the boards of a number of other companies, including Dominion Resources Inc., AGL Resources Inc., Circuit City Stores Inc., and Washington Water Power Company.
In Savannah, Jepson is a founding member of the SCAD Savannah Board of Visitors and acts as chair of the newly combined SCAD Board of Visitors, representing all four of the university's global locations in Savannah and Atlanta, Lacoste, France and Hong Kong. Jepson is also leading the university's capital campaign for the newly established Walter O. Evans Center for African American Studies, housed in one of the nation's leading contemporary art museums, the SCAD Museum of Art. He is a founding member of Savannah's Corinthian Society and board president for the Lucas Theatre for the Arts as well.
Jepson earned his undergraduate and graduate degrees in business and commerce from the University of Richmond, where he helped found the University of Richmond's Jepson School of Leadership Studies.
James Cromwell
Honorary doctorate recipient James Cromwell earned an Academy Award nomination for Best Supporting Actor for his memorable performance as Farmer Hoggett in the international smash, "Babe," and went on to play the role in the hit sequel, "Babe: Pig in the City." Cromwell's other memorable motion picture work includes "The Longest Yard," "I, Robot," Frank Darabont's critically acclaimed "The Green Mile," Stephen Frears' Oscar-nominated "The Queen," "Secretariat," and "Spiderman Three," among many others. He will be seen next in the family drama "Cowgirls & Angels," scheduled for release later this spring.
Cromwell also appeared on the Fox hit series "24" as Phillip Bauer, the father of main character Jack Bauer, played by Kiefer Sutherland. He earned multiple Emmy nominations for his work on the HBO original series, "Six Feet Under," the HBO movie, "RKO 281," and the NBC drama, "ER." His body of work encompasses dozens of miniseries and movies-of-the-week, including a starring role in TNT's "A Slight Case of Murder," a cameo appearance in HBO's "Angels in America," "West Wing," "Picket Fences," "Home Improvement," "L.A. Law" and "Star Trek: The Next Generation."
Cromwell has also performed in many revered plays, including "Hamlet," "The Iceman Cometh," "Devil's Disciple," "All's Well That Ends Well," "Beckett" and "Othello," in many of the country's most distinguished theatres, including the South Coast Repertory, the Goodman Theatre, the Mark Taper Forum, the American Shakespeare Festival, Center Stage, the Long Wharf Theatre and the Old Globe. He recently played A. E. Houseman in the American premiere of Tom Stoppard's "The Invention of Love" at A.C.T. in San Francisco. Cromwell has directed at resident theatres across the country and was the founder and artistic director of his own company, Stage West, in Springfield, Mass.
Born in Los Angeles, Cromwell grew up in New York and Waterford, Conn., and studied at Carnegie Mellon University.
Alice Jepson
Alice Jepson, Robert Jepson's wife and fellow arts and education advocate, will receive an honorary degree at the SCAD Savannah commencement ceremony as well. Mrs. Jepson serves on the boards of the Telfair Museum of Art and Savannah Country Day School and is a member of the Trustees' Garden Club. She is an honorary life trustee of Elmhurst College in Illinois.
SCAD: The University for Creative Careers
The Savannah College of Art and Design is a private, nonprofit, accredited institution conferring bachelor's and master's degrees at distinctive locations and online to prepare talented students for professional careers. SCAD offers degrees in more than 40 area of study, as well as minors in nearly 60 disciplines in Savannah and Atlanta, Georgia; in Hong Kong; in Lacoste, France; and online through SCAD eLearning.
SCAD has more than 20,000 alumni and offers an exceptional education and unparalleled career preparation. The diverse student body, consisting of more than 11,000 students, comes from all 50 United States and more than 100 countries worldwide. Each student is nurtured and motivated by a faculty of more than 700 professors with extraordinary academic credentials and valuable professional experience. These professors emphasize learning through individual attention in an inspiring university environment. SCAD's innovative curriculum is enhanced by advanced, professional-level technology, equipment and learning resources and has garnered acclaim from respected organizations and publications, including 3D World, American Institute of Architects, BusinessWeek, DesignIntelligence, U.S. News & World Report and the Los Angeles Times.