Press Release
/
April 12, 2012
Record number of SCAD students selected for prestigious American Illustration annual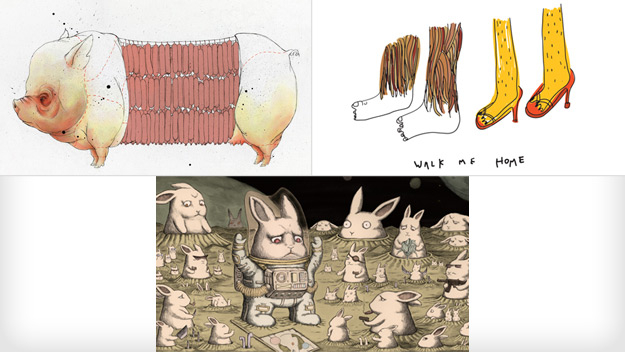 SAVANNAH, Georgia —
American Illustration selected a record number of SCAD students to appear in the 31st edition of its top-juried annual of illustration. Three students will appear in the book and nine others will appear on the website. SCAD Professor of Illustration Mohamed Danawi was selected to appear in the professional category of the book.
The selected students are Gautam Dutta, Grace Washko, Heajung Kim, Thomas Hunt, Karl Kanner, Rebecca Mohrlang, Malina Omut, Eos Pan, Sawsan Shalabi, Natalie Suarez, Zengshen Xie and Julia Yellow.
The selection process is a rigorous, juried competition. From 8,000 pictures entered by more than 1,200 illustrators, magazines, agencies, publishers and schools, the jury selected only 439 images to appear in the book, and they represent the best pictures from 2011.
"Having this many students selected into American Illustration is hugely significant for SCAD illustration," says SCAD Chair of Illustration Allan Drummond.
"It means that the department is producing the best work at the cutting edge of the discipline. Competition is incredibly high. This is indeed the showcase for illustration in a country where world standards are set, but more importantly, the jury always has a feel for what is current. It is actively looking for new talent, and to be chosen means your work gets noticed by new and influential buyers of art. The fact that so many of our graduate students were selected this year is a wonderful endorsement of our program, which encourages an individual visual voice."
American Illustration is an award-winning, large-format hardcover annual offering high visibility and recognition to illustrators. Books are produced in limited edition and distributed worldwide to top art directors, photo editors, designers and art buyers. Illustrators included in this book are considered to be in the highest rank of their profession.
Winning images, with complete credits and contact info, will also appear on The Archive, American Illustration's searchable web gallery at ai-ap.com, where illustrators build an online portfolio of their images and where creatives can search and make direct contact with them.
American Illustration 31 will be available Nov. 10, 2012.
SCAD: The University for Creative Careers
The Savannah College of Art and Design is a private, nonprofit, accredited institution conferring bachelor's and master's degrees at distinctive locations and online to prepare talented students for professional careers. SCAD offers degrees in more than 40 majors.