Press Release
/
April 9, 2012
Ralph Rucci honored with Andre Leon Talley Lifetime Achievement Award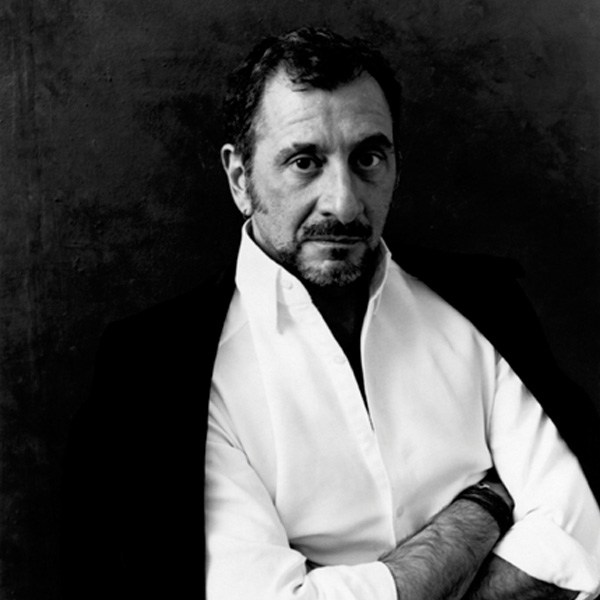 /Ralph Rucci's work has been featured in numerous museums, including three solo shows, and is also the subject of a book, "Ralph Rucci: The Art of Weightlessness."/
SAVANNAH, Georgia —
The Savannah College of Art and Design will honor renowned American couturier Ralph Rucci at the university's annual fashion show May 19, 8 p.m. at Trustees Theater, 216 E. Broughton St., Savannah. SCAD President Paula Wallace and Vogue contributing editor André Leon Talley will present Rucci with Talley's namesake Lifetime Achievement Award.
Rucci's honor will be complemented by an exhibit of his work at the ALT Gallery in the SCAD Museum of Art, 601 Turner Blvd., Savannah, opening May 19.
"We are delighted to honor Ralph Rucci's work and to celebrate his career as a singular figure in American couture," said SCAD President Paula Wallace. "His exquisite attention to craft and detail expands our ideas of contemporary fashion. SCAD students across the full range of our more than 40 disciplines will learn from Ralph's brilliance and ingenuity in design."
"I am very honored to have been chosen to receive the ALT Lifetime Achievement Award from SCAD this year and am distinctly proud of my association with this wonderful school," said Rucci. "It is surely one of the most important and respected institutions of higher creative learning in America, and I am grateful for this great compliment to my work and to the incomparable work of the Chado staff."
Rucci is the latest in a long line of fashion icons who have received this award, including Diane von Furstenberg, Oscar de la Renta, Karl Lagerfeld, Miuccia Prada, Tom Ford, Vera Wang, Marc Jacobs, John Galliano, Isabel and Ruben Toledo and, most recently, Manolo Blahnik. Talley is a member of the SCAD Board of Trustees.
Rucci's work has been featured in numerous museums, including three solo shows, and is also the subject of a book, "Ralph Rucci: The Art of Weightlessness." Chado was the subject of a documentary film by David Boatman, entitled "Ralph Rucci: A Designer and His House," which premiered in 2008 on The Sundance Channel. That same year he was honored to accept the National Design Award in fashion awarded by the Smithsonian Cooper-Hewitt, National Design Museum. In October 2011, his plaque on the "Fashion Walk of Fame" was unveiled and was placed on Seventh Avenue; and he is the subject of "Ralph Rucci: Autobiography of a Designer, " by Bauer and Dean Publishers book, released in December, 2011. Rucci is also the subject of a newly released film by Christian Leigh entitled "A Quiet American: Ralph Rucci & Paris."
The SCAD Fashion Show will present the collections of the top graduating seniors. The show has become one of the premiere student fashion shows in the country. Selected by a jury process, the students' work is critiqued every step of the way, from sketches to garments, by some of the top professionals in the fashion industry.
The SCAD Senior Fashion Show is at 4 p.m. and 8 p.m. Tickets are $20 for the general public and $10 with SCAD ID for the 4 p.m. show and $50 for the general public and $25 with SCAD ID for the 8 p.m. show. Tickets go on sale 10 a.m., May 1.
Tickets can purchased online at savannahboxoffice.com, in person at 216 E. Broughton St., or by phone at 912.525.5050. Tickets are limited.
SCAD School of Fashion
SCAD offers one of the largest and most comprehensive fashion programs in the United States, with a balanced curriculum of design and construction. Fashion students are encouraged to develop creative and intellectual thinking, inventive design skills and practical expertise necessary to succeed in careers in the global fashion industry.
The fashion department partners with innovative designers and hosts industry professionals who critique student work, present lectures and lead workshops. Recent visitors include Simon Doonan, Barneys New York creative ambassador at large; Anne Slowey, Elle fashion news director; Pamela Fiori, Town & Country editor-at-large; Derek Blasberg, author and fashion journalist; Kelly Cutrone, fashion PR mogul; Glen Senk, director and chief executive officer of Urban Outfitters Inc.; Marshal Cohen, author; Cameron Silver, vintage expert; and designers Carlos Falchi, Derek Lam, Mark Badgley, James Mischka and Waris Ahluwalia.
The SCAD School of Fashion offers B.F.A., M.A., and M.F.A. degree programs in accessory design and fashion, a B.F.A. in fashion marketing and management, and M.A. and M.F.A. degrees in luxury and fashion management. Minors include accessory design, fashion, fashion marketing and management, and menswear.
SCAD: The University for Creative Careers
The Savannah College of Art and Design is a private, nonprofit, accredited institution conferring bachelor's and master's degrees at distinctive locations and online to prepare talented students for professional careers. SCAD offers degrees in more than 40 majors.