Press Release
/
Sept. 17, 2012
Professor Kevin McCarey, explorer Jean-Michel Cousteau to host book signings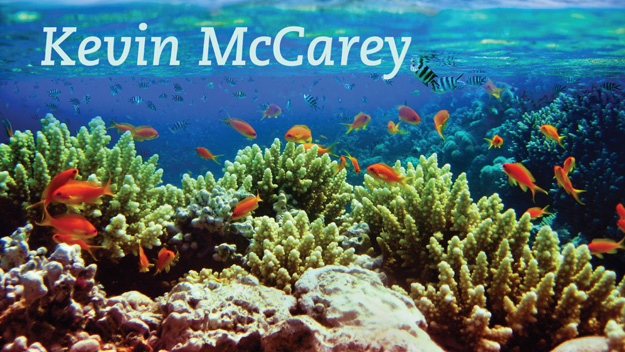 SAVANNAH, Georgia —
National Geographic filmmaker and SCAD professor Kevin McCarey and French explorer Jean-Michel Cousteau will sign copies of their books this weekend during the Gray's Reef Film Festival, which will include SCAD student films about coastal ecology.
McCarey will sign his book, "Islands Under Fire: The Improbable Quest to Save the Corals of Puerto Rico" on Friday, Sept. 21 from 4-6:30 p.m. at SCAD's Gutstein Gallery at 201 E. Broughton St. Also at the Gutstein Gallery, Jean-Michel Cousteau, son of ocean explorer Jacques Cousteau, will sign his book, "Explore the Southeast National Marine Sanctuaries with Jean-Michel Cousteau," on Saturday, Sept. 22 from 4-6:30 p.m.
"Islands Under Fire" is the account of McCarey's underwater search for coral reef damage off Puerto Rico's Culebra Island and the grassroots effort to persuade the U.S. Navy to cease gunning exercises in their vicinity.
"If there's a lesson in 'Islands Under Fire,' it's how we often stumble into doing the right thing. That's what happened to me," said McCarey, an award-winning filmmaker and former oceanographer. "The right thing in this case was saving one of the most precious coral reefs in the Caribbean."
Among the dozens of films included in the festival are seven films by SCAD students, which will be shown on Sunday, Sept. 23 from noon to 5 p.m. at the SCAD Museum of Art located at 601 Turner Blvd. The student films are under consideration for the Dr. Robert O. Levitt Emerging Filmmaker Award.
"Once again SCAD students have produced a compelling mixture of creative, intriguing films on a rich variety of topics from marine stories to cave exploration," said Dr. Keenan Smart, former head of National Geographic's Natural History Unit. "This year's crop is richer than ever."
Participating SCAD students are invited to attend a private luncheon with the contest judges, Jean-Michel Cousteau and other filmmakers.
Jean-Michel Cousteau will screen his film, "My Father, The Captain: Jacques-Yves Cousteau," on Saturday, Sept. 22 at 7 p.m. at SCAD's Trustees Theater located at 216 E. Broughton St.
The Gray's Reef Ocean Film Festival runs from Thursday, Sept. 20 to Sunday, Sept. 23 in Savannah, GA. All book signings and film screenings during the festival are free and open to the public. More event information is available on the festival's website.
SCAD: The University for Creative Careers
The Savannah College of Art and Design is a private, nonprofit, accredited institution conferring bachelor's and master's degrees at distinctive locations and online to prepare talented students for professional careers. SCAD offers degrees in more than 40 majors.