Press Release
/
Nov. 8, 2012
Neal Holman, art director for the television series "Archer," to visit SCAD animation students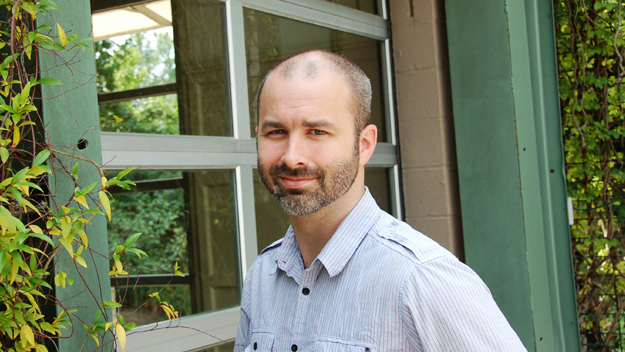 SAVANNAH, Georgia —
The Savannah College of Art and Design is pleased to host Neal Holman at the School of Digital Media on Friday, Nov. 9 at 11:30 a.m. in Montgomery Hall, room 322. Holman is an art director and production designer for the FX Network's animated spy comedy, "Archer," and is an art director and producer at the Atlanta-based animation company Floyd County Productions. He will visit SCAD's 2D animation students, engage them with a Q-and-A session and review selected students' portfolios.
"I'm looking forward to meeting with SCAD students and faculty and taking a look at their comprehensive animation program," said Holman. "It will be a nice glimpse at what the future holds for our industry."
While at SCAD, Holman will offer students a personalized version of his presentation "From Script to Screen: Developing 'Archer,' " that he has prepared for the annual Geekend conference, Nov. 8-10 in Savannah. A keynote speaker, Holman will open the conference on Friday, Nov. 9 at 9:30 a.m. at the SCAD Museum of Art auditorium, 601 Turner Blvd.
Visionaries from tech and creative sectors descend on SCAD Museum of Art Created to unite leading designers, developers, artists and social media gurus from the creative and tech industries, the majority of the Geekend 2012 program will take place at the SCAD Museum of Art.
"Geekend focuses on the ways technology impacts creative thinking, design and art," said Sloane Kelley, the executive director of the event. "As a distinctive space that marries art and technology, the SCAD Museum of Art will be the perfect space to inspire attendees throughout the conference and beyond."
In addition to Holman's address, the SCAD Museum of Art will be the site for the following presentations, which are open to the public on Friday, Nov. 9 and Saturday, Nov. 10:
"When Higher Intelligence Leads to Higher Return," Timothy Burke Sullivan, AT&T AdWorks
"Are You Trying to Fit a Rhinoceros into a Mini Cooper? The Reality of Responsive Design," Tyrus Christiana and Randy Rodriguez, BFG Communications
"The Making of a Transporter Bus Shelter," Mimi Chan, CBS Outdoor Canada "Design Without Limitations," Andrew Bolton and Abhishek Lahoti, Thismoment
SCAD staff and alumni are well represented on the Geekend 2012 agenda with presentations such as:
"The Appeal of Virtual Spaces," Celeste Lovette Guichard, SCAD
"Why #Instagram is #Instagood," Ian Leslie, SCAD
"How to Fund your Dream with Kickstarter," Kristine K. Stevens, SCAD
A complete list of presentations and ticket information can be found at geek-end.com.
SCAD: The University for Creative Careers
The Savannah College of Art and Design is a private, nonprofit, accredited institution conferring bachelor's and master's degrees at distinctive locations and online to prepare talented students for professional careers. SCAD offers degrees in more than 40 majors.