Feature
/
Dec. 12, 2013
Lynsey Gwilliam: (Inter) stellar achievements at the intersection of art and engineering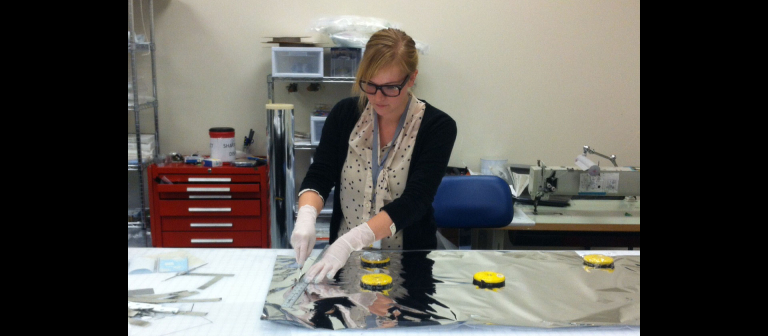 Lynsey Gwilliam (2010 B.F.A. in fibers) designs blankets that journey to outer space. Photo courtesy Lynsey Gwilliam.
It's no secret that SCAD alumni have made their mark on the planet, and if you're fibers alumna Lynsey Gwilliam, you've gone one step further — to the final frontier. As a member of Genesis Engineering Solutions, a subcontractor to NASA, Lynsey joins thermal space blanket technicians who design and build the metallic blankets seen on the Hubble Space Telescope's exteriors. I'll share more about Lynsey's work in a bit. But first, I'd like to take you back a few years earlier and some 342 miles lower.
After all, before Lynsey's gifts launched her into the starry realms of the Horsehead Nebula, her talents intersected with a horse of a different color — the SCAD varsity equestrian team. Lynsey excelled in and out of the corral, earning the Director's Choice Award for university athletics and the Academic Achievement Award for SCAD Fibers.
After graduating Summa Cum Laude, Lynsey won a three-month residency at the Pocosin Arts Folk School in Columbia, North Carolina and an economic incentive grant from the Town of Columbia, which enabled Lynsey and jewelers Maia Leppo and Maura Cartwright to launch the Columbia Art Space, a gallery and retail venture featuring work handcrafted in their respective metal and fibers studios. Following her adventures in Columbia, Lynsey enrolled in graduate studies in the business of art and design, where she met fellow fibers artist Aleks Bogunovic, who in turn introduced her to Genesis Engineering Solutions.
At Genesis Engineering Solutions, Lynsey works in a blanket fabrication lab charged with protecting the telescope's hardware from the extremes of heat and cold by creating what she playfully calls clothes for space crafts. She thrives on the unique challenges posed by each of the tasks saying, "…there is never just one way to build a blanket." To begin, Lynsey examines a given piece of hardware — any one of which can differ dramatically in size, complexity, and shape from the next — sometimes viewing the piece in situ. She also gathers requirements from contamination, electrical, mechanical, and thermal engineers.
From the conditions described and requirements prescribed, Lynsey and her small team must determine how many layers to build into the blanket, and what features to incorporate into the design. They must also factor in the manner in which air will pass through the blankets and the relationship between between the blanket and the various spacecraft components. After iterating and gaining approval on her design, Lynsey creates a flat template to fit the hardware using traditional pattern-making techniques, which take into consideration the reaction of the materials to corners, creases, and curves. Often the client selects the materials on the basis of their thermal, electrical, and optical properties. The binding of these materials — whether taped, sewn, glued, or tied together — is likewise determined by the composition of the material. In the final step, Lynsey installs the blanket on the spacecraft in a cleanroom, which is a contaminate-controlled space.
Grounded in the rich history and artisan tradition of fibers, Lynsey continues to thrive on the modern applications of her craft, while celebrating the tactile experience. Now that you've had a taste of her star-studded work, take a peek at several of her past projects from notebooks with wooden covers and elegantly stitched binding to floral quilts and luxurious scarves woven from skeins of bamboo, linen, and twill. Follow her latest design venture PinPin Studios, which helps clients reimagine their spaces using her SCAD fibers expertise and solution-driven approach.
Connect with Lynsey William
---
About the SCAD fibers program
Fibers designers conceive the fabrics, patterns, coverings, textures and textiles other designers use to construct garments and rooms. They give beauty and function to the surfaces we see and touch every day.
Learn more about the fibers program today.