Feature
/
April 22, 2013
Meet Theron Humphrey: photographer, SCAD alum and National Geographic Traveler of the Year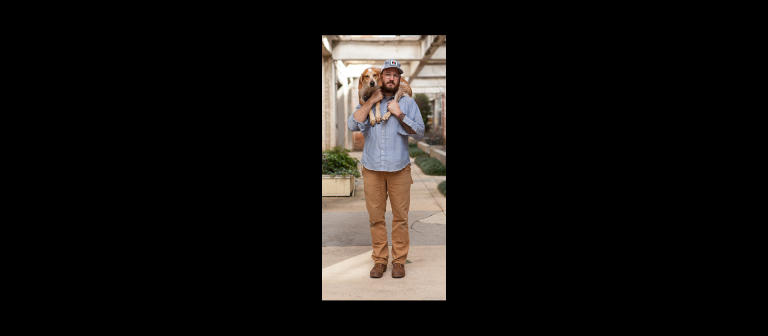 Alumnus Theron Humphrey will participate in a panel discussion April 26, as part of SCAD's annual Silver & Ink photography event.
Theron Humphrey had an idea. And it was a wild one.
So in August 2011, he set out on what would become a crowd-sourced photographic pilgrimage; a search for meaning behind the shared humanistic legacy of daily life in America.
And when he returns to his alma mater April 26, to speak as a panelist on starting a career in the art world at SCAD's annual Silver & Ink photography event, he does so as a widely traveled, recognized photographer and published author.
But to understand Humphrey's creative career success, which has inspired a social media network of more than 200,000 Instagram followers, 60,000 Tumblr followers and 17,000-plus Facebook friends, you have to look back a few years, to the Kickstarter project that propelled him, and his rescued coonhound Maddie, into the collective national consciousness.
The SCAD alumnus (M.F.A., photography, 2007) was on a photo shoot for handbags in Idaho when he realized he wanted to do something completely different with his art.
"You get into a rhythm where you are shooting for everyone else all week," Humphrey remembers. "The last thing you want to do is use a camera on weekends … that, along with a bad relationship ending, stirred me up to do something different."
By "something different," he means he quit his job, landed some freelance work at Amazon/MyHabit.com and took some time to ponder his next steps. Humphrey had also picked his camera back up in his free time to photograph his grandfather.
When his grandfather passed, those images became priceless, prodding him toward the starting line of something big.
"I wanted to live a good story, to create something I'd be proud of," Humphrey says about pursuing art on his own terms. "I didn't want to show the kids I hope to have one day a portfolio of studio product shots … I thought it would be rad. And hard."
Kickstarting into the wild
Dubbing the project "This Wild Idea," Humphrey decided to document one person for each day spent on the road, recording oral history clips to accompany his photographic portraiture.
Looking back, Humphrey says that "selling something intangible, like This Wild Idea, was really hard. I did a lot of selling in person, just talking to people about it."
Through creative project-funding platform Kickstarter, Humphrey raised nearly $16,000 toward project costs, offering handwritten postcards, photographic reprints and the chance to be one of the 365 subjects documented during the project as donation incentives.
Exactly one year after he started, Humphrey had touched down in every state in the union and clocked 66,565 miles on scenic byways, coastal highways and sections of interstate. More than 91,000 camera clicks later, National Geographic Magazine took one look and named Humphrey one of the 2012 Travelers of the Year.
Living the idea
Most of the critical buzz surrounding TWI focuses on the concept and experiential odyssey rather than the artistic elements of his photo catalog, but it's clear Humphrey hungered for realism.
Set in the sanctuary of ordinary Americans' homes, he captured images that reflect an enduring, generational appeal, seizing voices out of the air and freezing memories in time. The project's scope and breadth of draw parallels to various American folk-life projects including the Depression-era Federal Writer's Project and the ongoing StoryCorps, but with a visual twist.
A fan of those types of projects, Humphrey says the oral history segments were a last minute addition, but became a particularly significant aspect of the project.
"To hear someone's voice and see their face is really powerful," he says. "It was amazing to find open hearts out on the road. To meet someone new and then an hour later be in their home photographing them is awesome."
While he did photograph a handful of friends, Humphrey says he met all his other subjects along the way. His project harnessed both the power of a handshake and of interactive media, building an interactive engine of give-and-take.
The navigational tab on TWI's website linked to a live map of Humphrey's route users could alter with a click of their mouse, often by sending him to meet their grandparents or friends. This aspect of the project required Humphrey to be flexible, planning ahead no more than 24 hours at a time, and fashioned TWI's meandering path across the country.
While chasing the mouse-clicks, Humphrey said he adopted a beatnik, minimalist approach, camping out and living simply with copilot Maddie.
And on New Year's Day 2012, when someone broke into his truck in Jackson, Mississippi, and stole $6,000 worth of camera gear and all his raw files, Humphrey turned to his loyal Kickstarter supporters, pled for a boost, borrowed equipment and continued on.
Looking back now, Humphrey says that the best part of TWI was finishing something he set out to do.
"Most days were awesome, some days sucked, some days it rained," he says. "Just like life."
Putting Maddie in her place (on things)
Humphrey started taking photos of Maddie for fun during the TWI road trip, but he says he certainly didn't set out to turn the hound into his next project.
"I just started photographing her on the side, because she was always with me," he says. Humphrey snaps these photographs with the more accessible iPhone 4 rather than his usual Canon 5d.
Well known in online circles, the ultra-mellow rescue from Atlanta, Georgia's Cobb County animal shelter Maddie has a constantly expanding fan club of folks who enjoy seeing the hound yawn in snapshots with closed eyes, perched like a mountain goat on the rim of a basketball net, stretched across handrails, or balanced on top of a tire.
Telling stories
These days Humphrey is pulling double duty. He's currently logging miles, images and stories on a cross-country odyssey funded by Purina One titled, "Why We Rescue."
While working on the 50-state, 50-story undertaking to chronicle shelter-pet adoption, Humphrey has sandwiched in a book tour promoting "Maddie on Things: A Super Serious Project About Dogs and Physics," a tongue-in-cheek photo book featuring his own rescued companion, Maddie.
Following the same continent crisscrossing format as TWI, "Why We Rescue" means another vagabond year for Humphrey.
"It's been a cool two years now," Humphrey says. "I have a better idea of what it means to be human … that's how I like to look at it …everyone wants to be listened to and everyone has a story to tell."