Feature
/
Dec. 19, 2012
Meet Sam Spratt: New York-based freelance illustrator, SCAD alum and poster child for creative career success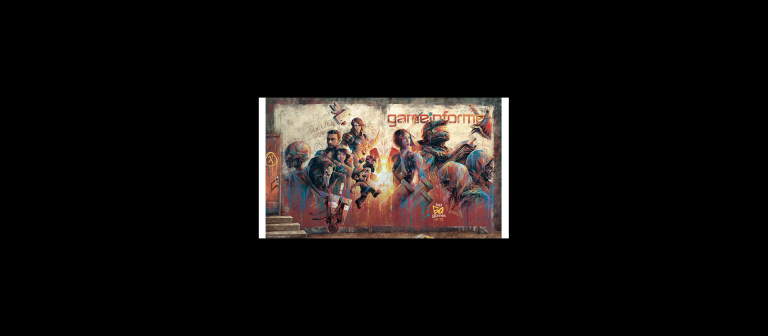 "Art … can be as horrifically worthless or as earth-shakingly important as you make it. When given the opportunity to learn from people better than you, smarter than you, more experienced than you-when you're given the latest tools and knowledge base-and when you're encouraged to freely explore how to create with them, you have the best chance possible to walk a life with that terribly vague word: art." - Sam Spratt
He's been called a "creative monster." A "digital Norman Rockwell with a caricaturist's bent." "Pop-culture's digital Da Vinci." His creative and professional work has been featured on thousands of websites and publications. His client list for freelance illustration ranges from Rovio, Gizmodo and Gawker to MSNBC, FX Network, Warner Brothers and the American Association of Cancer Research.
He's Sam Spratt-24-year-old freelance illustrator based in Brooklyn's Park Slope neighborhood. Sam Spratt- sought-after artist for Fortune 500 executive portraiture, commissioned by celebrities, photographers and musicians-including "Childish Gambino." Sam Spratt-who says he wouldn't be the artist-illustrator or human being that he is today if it weren't for his experience at SCAD (B.F.A., Illustration, 2010).
Spring-boarding from a SCAD education
For the past two years, Spratt has used his SCAD experiences to launch his career as a working artist somewhat spectacularly, not only by pushing the limits of his art and aesthetic, but also through building his brand and online presence.
"The SCAD painting program and faculty, especially Professor Roger Walton, are priceless building blocks for whatever technical understanding I now have," he said.
Having developed the discipline that helps artists to grow intellectually and hone their craft at SCAD, Spratt applies his classic training in photorealism to new media, creating digital paintings on Wacom tablets instead of oil paintings on stretched canvas.
There's always cross-disciplinary debate as to whether technology improves art or battles art-not only at SCAD, but also in the art and design world at large. At the end of the day, a painting created with software instead of brushes is still a painting.
"As weird as this sounds, I actually have a pile of a hundred or so tubes of oil paint, a slew of dirty brushes, and a partly-open container of linseed oil, all hanging out in my digital studio, just to remind me of where it started."
Now, Spratt's foundation studies infuse his digital medium. He's the artist responsible for the cover art on Game Informer Magazine's January 2013 issue, featuring characters from the year's best video games across a wraparound cover-all games he made a point to play.
"Easily the best research I've ever gotten to do," Spratt said. "The editor-in-chief is a great guy and just let me do my thing. Gave me a list of characters and zero art direction."
"I can say with zero hesitation that I wouldn't even be an illustrator without SCAD," he said.
Spratt is also quick to credit SCAD beyond just impacting his technical education and into the realm of personal growth. With coursework designed toward exploration of self and experimental stylistic expression, Spratt said that SCAD pushed him not only to become the artist, but also the person who he is today.
Sam Spratt's advice for current and prospective SCAD students:
  Put in the same amount of work as you would if you were becoming a doctor or a lawyer; make art like you're studying for the bar exam or taking your MCATS.
  Remember the assignments we love need the assignments we hate in order to push us as artists.
  Treat it like actual education instead of what's fun, different or easy.
  Art is work; how you share what you make is so important.
He also credits SCAD for pushing him to really be himself, "obnoxious and over-analytical," he said, which helps him to shape his social media voice and brand. While SCAD coursework promotes new media platforms and online portfolios sites like Behance as self-promotional tools, Spratt's online network goes far beyond textbook.
Harnessing the power of the world-wide Web
"The Internet is the single most powerful tool available to the public," Spratt said. "It wasn't always that way, but right now, I can get on my computer, in any area of the world with a connection, and I can share my work, my thoughts, news, ideas, and process with anyone who cares to listen. I can put a single image online and track it as it virally trickles and booms across various websites - finding its way into millions of eyeballs."
Spratt is all media, all the time. From his elegant website, tumblr (with more than 63,000 followers), Twitter and flickraccounts to his Facebook fan page (31,000-plus fans) with merch sites hawking his screen-printed designs on t-shirts, totes, hoodies and limited edition prints, his web presence is practically a full-scale assault. He even has aYouTube channel with time-lapse videos of his digital painting process.
A poster child for self-promotion, talent, and creative career success, Spratt is confidently forging his concrete path through the freelance jungle. He's in a position to turn down any staff illustration job and remain his own boss, a winning example of the working artist. Galleries in both Manhattan and Brooklyn have approached him about solo shows and he's explored their spaces and talked numbers. When Spratt's ready, he said, he'll make it happen-on his own terms.
For right now, he's another perfect example that an arts education doesn't have to mean poverty. Spratt's career and life are proof that pursuing your dreams and earning a degree at SCAD can help you to get where you're going. He's proof that getting your work out there into that wild web world will connect you with the people who are searching for something with which to connect-proof the ultimate goal for any talented, hard-working artist is always within reach.
Check out Sam Spratt's stellar site: www.samspratt.com.