Feature
/
Oct. 24, 2011
Meet Ramona Todoca, graphic design alumna and art director for New York City ad agency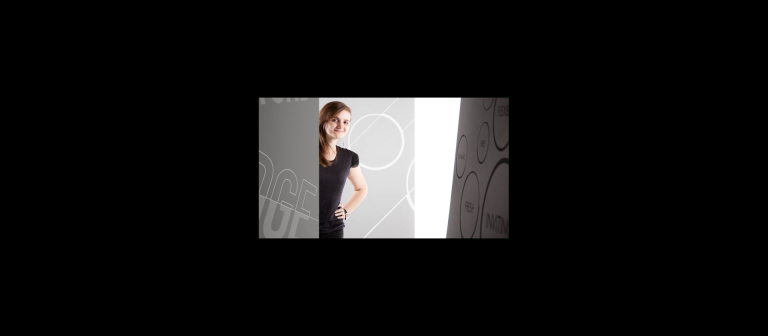 Ramona Todoca grew up in Romania, where she discovered a love for writing at an early age. Later, at an arts high school, she cultivated an interest in painting and drawing, and decided to combine her love for typography and imagery by pursuing an education in graphic design. "I applied to several art colleges and I was accepted to all of them," says Ramona, "but by far, SCAD was the one that clearly differentiated itself from all the others."
She had never even visited the United States before she moved to Savannah to attend SCAD, but Ramona viewed the relocation as an adventure. "One of my favorite quotes is 'the worst sailors are the ones who stay on land,'" she says. "I try to live a full life, which means trying new things. I don't ever want to end up wondering, 'What if I had done this or that instead?'"
As a new graphic design student at SCAD, Ramona took every opportunity to experiment with and excel in her class assignments. In one of her introductory courses, Ramona was given a simple assignment to design a poster - her answer to the task was a striking laser-engraved 3-D piece.
Later, a prompt to create a 16-page book exploring a common household object turned into a 40-page study of pencil sharpeners. At every step of this project, Ramona approached her professors with ideas that might be considered outrageous-could she craft the covers out of metal to mimic the object? Could she include interactive images operated with pull-out tabs? - and was met with enthusiasm and encouragement with each proposal. Ramona enlisted the help of a friend in the industrial design program to craft the sheet metal cover and other students in architecture and printmaking to contribute to the content. The resulting work, an innovative and visually appealing study of pencil sharpeners, went on to win a National Gold Student ADDY award.
Ramona cites her professors' encouragement to find her own voice as the most beneficial aspect of the graphic design department. The program's emphasis on teaching conceptual thinking in addition to technical skills has helped her designs immeasurably. "A lot of other schools are trapped in one taught style," says Ramona. "You see work from some different schools, and you say, 'OK, this is from so-and-so school and this is from this other school.' But when people see our work, they can't say, 'Oh, this is from SCAD,' because it's not all trapped in any one style, and I think that's very valuable."
In her own work, concept drives every aspect of Ramona's design, and she resolutely avoids falling back into one style for every project, even if it's a style of her own creation. This approach has proven successful for Ramona; among many other accolades, she was chosen to represent SCAD at the 2011 Art Directors Club Portfolio Review in New York City, has had her work featured in several books on graphic design, and has won awards ranging from first place in the Taste of the World Food Festival poster competition to a full tuition scholarship from SCAD. Ramona's enthusiasm for design carries over into her extracurricular activities as well; under her leadership as president of the newly formed SCAD chapter of design organization AIGA, membership increased significantly.
Ramona has had valuable opportunities to travel while at SCAD. She recently refined her understanding of corporate identity at an internship for New York City branding firm Intrabrand. After that, she spent a quarter studying graphic design at the SCAD Hong Kong campus.
While living in Hong Kong, she helped design the layout for "Tilting the Lens: Telling the Story of Sham Shui Po," a collaborative book project created by photography, historic preservation and graphic design students studying at SCAD Hong Kong. "Tilting the Lens," a work honoring the community of Sham Shui Po that SCAD Hong Kong calls home, is now slated for publication.
Ramona graduated in summer 2011, and was immediately hired as an art director at Ogilvy & Mather. She plans to live and work in New York City for several years before returning to Romania to work in a design position for a cultural institution, such as an opera house or a museum. "I'm interested in how design can change the way people think and the way people interact with the world," she says. "I want to use all the things that I've learned to persuade other people to embrace art."
View Ramona's online portfolio.