Feature
/
Oct. 28, 2011
Meet Kara Roberts, luxury and fashion management alumna and humanitarian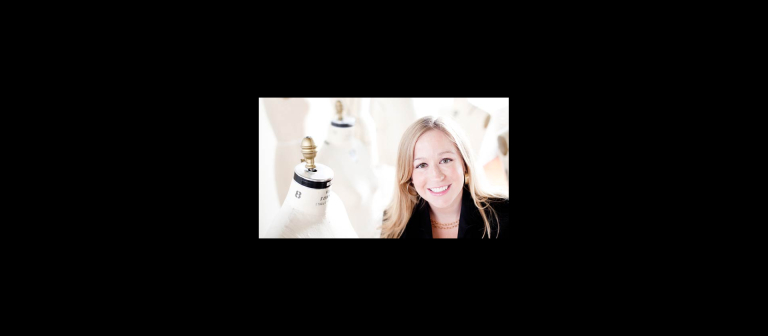 Kara Roberts began cultivating her interest in fashion as a child when she briefly lived in New York City, near Madison Avenue. Although she enjoyed wandering the bustling fashion district, she didn't even consider pursuing a related career. "At the time, I thought it was actually a little too shallow of a profession for me," Kara says.
She began working for her teaching certification instead, but still found time to keep up with style trends, even interning briefly with Vogue. She completed a master's degree in child development, and then went on to teach special needs children for several years. Although the work was rewarding in many way, she says, "I felt like a creative piece was missing." She decided to finally embrace her interest in fashion and go back to school.
Because of Kara's exposure to the fashion world, she already knew exactly what qualities she was looking for in a graduate program. "I looked at other art schools, especially ones back home in New York," says Kara. "But SCAD was the only one that really did a good job merging all the sides of the industry. The program strikes a balance between business and creativity with every single assignment, every single class. Working from both perspectives is crucial to every brand's survival and SCAD is unique in having that balance. I knew coming in that it would be a huge asset."
Since her career change, Kara has already had several opportunities to test her skills in an industry setting. She recently returned to New York to intern for Martha Stewart Living magazine, an experience she describes as a valuable first-hand look at brand identity and fashion marketing. "It wasn't a go-get-me-coffee kind of internship," says Kara. "I got my own assignments and went to all the concept and design development meetings." As part of the internship, Kara even helped style Martha Stewart for the cover of the special Halloween issue. "It was a little stressful, but so much fun," she says.
She also participated in a collaborative SCAD-sponsored project designing a new flagship store for fashion retailer United Colors of Benetton. In the project, she worked with other students from a variety of majors, including architecture, advertising and service design, to plan every detail of the store, from innovative structural design to marketing strategies and retail systems. After completing the project, Kara and her fellow students were able to present their designs and strategies to Bennetton's president.
Kara used all of this experience as a jumping-off point for her thesis, an exploration of marketing strategies for luxury brands that give portions of their proceeds to humanitarian causes. "My thesis surprised some people," says Kara. "Usually fashion and ethics don't hold hands. But they're starting to. Everyone is becoming more aware. People used to be able to ignore world hunger, human trafficking and poverty, but with news instantly available online, now they can't. They're feeling more compelled to give, and it's a win-win for them to buy, say, a dress while also contributing to a cause."
Since graduating, Kara has developed her own ethical fashion brand, which is set to launch its first jewelry line in January 2013. Kara's luxury and fashion management classes equipped her to handle the company's branding, marketing and social media, and to secure investor backing. Kara views her company as a platform for helping children and empowering women; the proceeds from the jewelry will benefit St. Jude Children's Research Hospital, and all of the company's employees are working mothers. "I want my company to not only serve as a platform for great style," says Kara, "but also as a venue in which we foster women having it all: family and career."
Kara says her time at SCAD has laid the groundwork for the career she has always wanted. "I'm so glad I came here," she says. "The program has grown so much in just the time since I came here, and is still constantly improving. I'm so jealous of the students just now coming in!"