Feature
/
Nov. 22, 2011
Meet Iona Gonsalves, fibers alumna and jewelry designer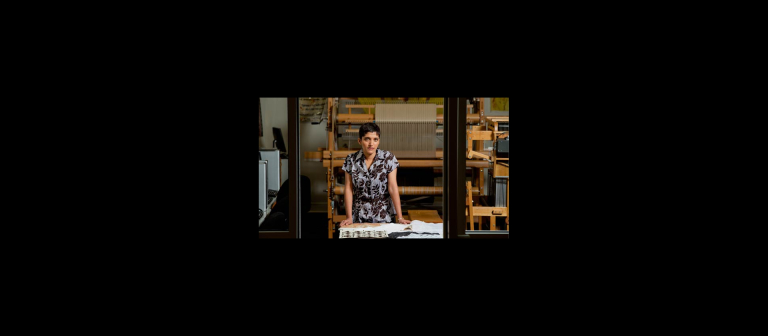 Iona Gonsalves first began pursuing textile design in her home country of India, where she traveled to various craft sectors to research traditional fabric arts. Her first foray into this kind of anthropological skill building was in Kollam, where she lived briefly. There, she learned lace making from the older artisans of the area, many of whom had lost their eyesight, but were still able to perform the intricate maneuvers of their craft from memory.
She also stayed with the Toda people of southern India to learn their traditions of embroidery - no easy feat. "They are very possessive about their culture," Iona says. "They were scared that I might learn their craft and go make a living out of it and they might lose their livelihood." Eventually, she won over the local artisans, but even then, they would only consent to teach her one pattern a day, a compromise she found exasperating.
When Iona moved on to work at a design firm, she combined these traditional textile arts with her own fashion-driven taste to create patterns for block-printed silk scarves. Her new employer was skeptical of her conceptual and modernistic designs. When he first saw her work, he dismissed it offhand, saying that her that clients would not want her scarves and that her design aesthetic was not marketable.
Iona was stung by this criticism and went home feeling disheartened. When she next came into work, she discovered that a buyer for a top Mexican client had come in and bought all of her scarves while she was gone. Her boss made no mention of his previously negative opinions of her work; instead, he left her a stack of new fabric with the demand that she design more scarves.
After earning a reputation as an innovator in this Indian design firm, Iona decided in was time to move on, and she turned her sights on the American design market. She landed a temporary position doing design work for the Los Angeles-based label Dosa; in this position, she realized she would connections if she was to succeed in the U.S., and she began looking into graduate programs. She applied to SCAD after extensively researching the fibers department. "I needed an experience," she explains. "I needed to see how the American market works. To be successful, you need to know people; you need to have connections. SCAD has given me connections."
Once at SCAD, Iona's unique and polished aesthetic garnered her not only numerous awards - including the Outstanding Achievement Award in 2010 and the Presidential Fellowship Award in 2008 - but also attention from industry professionals in SCAD's network. In 2009, Iona earned a spot in sustainable-crafts artisan Natalie Chanin's stitch workshop after showing Chanin some of her work at a SCAD event.
Later, Iona had the opportunity to show her work to Vogue contributing editor and SCAD board member Andre Leon Talley, who invited Iona to New York to meet and present her portfolio to top designers for Isabel and Ruben Toledo, Ralph Rucci, Zac Posen, Vera Wang, Tracy Reese and Calvin Klein. Iona says this experience reaffirmed her passion for fashion textiles.
"It has made me mentally clear that I know this is what I want," she says. "In my previous job, even though I have worked hard, I liked my job, it almost led me to a confusion. Is this what I want to do all my life? Well, here, now I know. I'm confident about myself and I'm confident about my work."
Iona's work consists mainly of luxury fabrics that range in versatility from high fashion to home furnishings. When creating these textiles, she takes her inspiration from her surroundings and sometimes uses details of Savannah as her muse.
"Most of my inspiration is from architecture and from the pictures that I take," Iona says. "There are elements of Savannah I pick on, and from there I go. I focus mainly on the light and shadow, how the reflections are created."
Since graduating, Iona has expanded her work to incorporate metal, and now works as a jewelry designer and retailer in Savannah. She still considers herself primarily a textile designer, however, and plans to continue developing her fibers skills in the future by further exploring traditional handcrafting.