Feature
/
Nov. 10, 2011
Meet Constantine Ronquillo, urban design student and international architect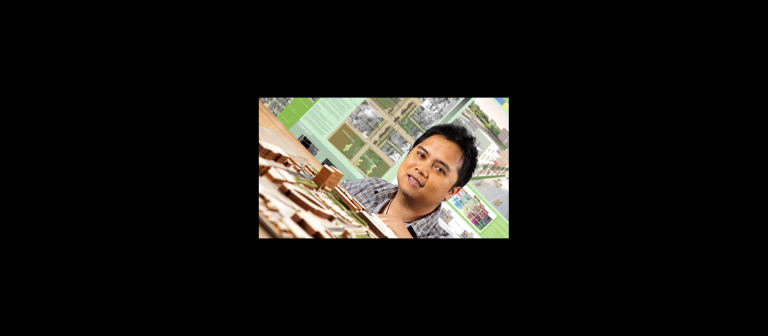 Constantine Ronquillo, from Manila, Phillipines, is working toward a degree in urban design from SCAD Savannah.
As a child growing up in the Philippines, Constantine Ronquillo experimented constantly with art, announcing to his family at an early age that he would grow up to be either a famous cartoonist or a successful architect. By the time college rolled around, he still had not made up his mind between visual art and architecture; he even enrolled in painting courses before changing his mind last minute and switching to architecture. "I was fascinated by art, but at the same time, I'm also fascinated with the function that it can bring, and you don't get that function so much in painting," says Constantine.
After completing his undergraduate studies, he entered the architecture field, working for several firms in succession on projects that took him all across the world. His design work included corporate offices, resorts, residences and even sections of a theme park. At one of the firms he worked for, Constantine introduced the architects to digitized renderings and computerized 3-D modeling and helped them transition from the analog blueprints they had been using for years.
During his years in these firms, Constantine felt increasingly hindered in his own development by tight time constraints. He felt that strict timelines were preventing him from exploring all of his design options for any given project to his satisfaction. "I started thinking, if I had the opportunity to expand my critical thinking and then go back to designing, I could make much more out of the time that is given to me for designing and executing," says Constantine. He decided to seek his master's degree.
After researching graduate schools all over the world, Constantine applied to SCAD's urban design program; it was the only program he applied to, mainly because he liked SCAD's focus on design and critical thinking. "I believe that SCAD is one of the most dynamic art schools in the country right now," says Constantine. "You don't see this type of success in other schools." He was also drawn to Savannah as the ideal environment for studying urban design; the city's unique urban grid, he says, "has a huge urban and architectural value."
Since coming to SCAD, Constantine has explored this grid constantly in the context of his classes. He has also worked on several projects not set in Savannah, including plans to reverse youth emigration from Dalton, Georgia, with urban community gardens and the restoration of historic sites, and a similar proposal to revitalize the downtown district of Beaufort, South Carolina. More recently, Constantine worked on a plan to create a renewed social hub and tourist destination in Santa Monica, California, through the use of green spaces, hotels, museums and theme parks.
These projects have helped Constantine refine his design techniques and architectural style, a style he describes as minimalist. Constantine appreciates forms that emphasize rather than hide the technical aspects of construction. He is very interested in parametric architecture, which uses mathematical ideas to determine what is aesthetically pleasing, such as the famous example of the golden ratio, the ideally proportioned rectangle.
Sustainable design has also become a new point of interest for Constantine since he came to SCAD. He even recently worked with a client on a large design project involving sustainability, a project that is still confidential. "I didn't know sustainability was such a big deal before coming here," he says, "and it actually caught me by surprise." This new area of expertise has already benefited him in seeking new design projects as the demand for specialties in sustainability grows in the architecture field.
Constantine will graduate later this year and plans to immediately go back into architecture. He has an open offer to return to his most recent job at an international architecture firm, but he is also keeping his options open. Wherever he ends up, he plans to continue working on an international scale. With his urban design expertise, he now feels well equipped to tackle a variety of projects and is intrigued by the possibilities that his new specialty has opened up for him. "Urban design involves people, society, cities, not just buildings," says Constantine. "It's not just about aesthetics; it's about making lives better for people."