Feature
/
Oct. 26, 2011
Meet Christine Selvia, accessory design alumna and footwear stylist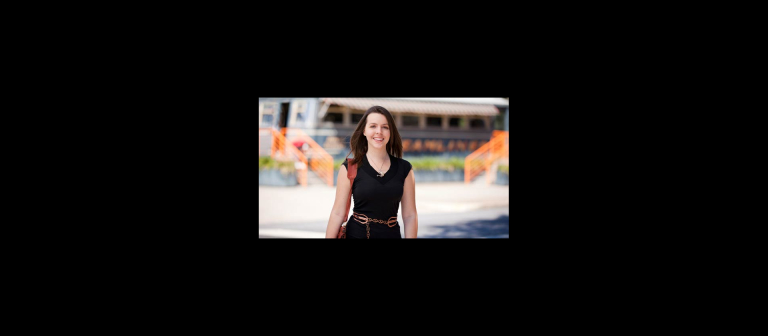 Christine Selvia, from Naples, Florida, earned a B.F.A. in accessory design from SCAD Savannah in 2011.
Christine Selvia recently earned a B.F.A. in the accessory design program. She originally planned to major in illustration; when the accessory design major launched, she switched degree tracks immediately. "I decided that it would be a wonderful step for me because it's such a niche career field," Christine says. "There are only two programs in the country, this being one of them."
Since switching programs, Christine has designed accessories ranging from belts to bags, in styles spanning sportswear to high-end fashion. She recently designed and prototyped a hiker's backpack complete with a built-in compass, but feels just as comfortable creating a couture handbag. After trying her hand at all of these accessories, Christine has spent much of her time at SCAD honing her expertise in women's footwear.
Christine's high-end work generally features sleek, sculptural heels and is inspired by the work of nature photographers. She designs with a professional urban clientele in mind and intends her shoes to be empowering for the modern woman; she avoids frills, pastel colors, and demure silhouettes. The buyer she designs for, she says, ideally would "come off as creative and clever. She would be a unique, eclectic type of consumer."
Additional sources of inspiration for Christina have included the guest lecturers and visiting artists who come to SCAD. "It's incredible," she says. "We get these great opportunities. We've been able to meet with Carlos Falchi, who is a really famous handbag designer from New York and Manolo Blahnik came to the fashion show for the lifetime achievement award. SCAD really puts you in a position where you're able to connect with people who would be very, very difficult to meet otherwise."
The time she spends producing designs and refining her aesthetic continually reaffirms Christine's desire to work in accessory design. "There's an incredible level of magic and imagination involved in the process of taking an idea from sketch to rendering to prototype," says Christine. "When I did illustration before, I would feel burned out after finishing a project. But now I never feel burned out. I have an inner drive for my work, even if I'm working till 4 or 5 a.m. on something."
The creative process for Christine varies depending on the type of piece she is designing; she creates soft goods like her hiker's backpack by hand, but has many more options when constructing shoes. The accessory lab provides her with sanders and other machines, which she experiments with to produce her designs. She also relies on the resource library to provide her with sample fabrics and other reference materials. This year, Christine prototyped three pairs of heels using 3-D printers and also created several footwear molds, which are generally used for small-scale in-house production.
Some of these pieces, along with others Christine and her classmates produced, will be used as examples for design students all over the world in a textbook academic publishing house AVA will be putting out next year. "That feels great," says Christine of having images of her work published. "It really feels like what we're doing is very applicable. The idea that what we're applying right now, even this early in our careers, can be shown to other people as an example just proves that the school and our curriculum is really on point with the industry."
After her graduation in the summer of 2011, Christine moved to Chicago to intern with Max Azria's brand BCBG. After this internship ended, she accepted a one-year apprenticeship with handbag designer Carlos Faclchi, and is considering pursuing a graduate degree after the completion of this apprenticeship. She plans to eventually work in footwear, preferably in sportswear, at a skate or surf brand. Her ideal position would be designing for Puma.
Christine feels prepared for the industry as not only a designer, but as a businesswoman. "We've learned all aspects of the design process and how different materials work, the sewing and the packaging," she says. "But we've also learned about branding, price points, cost sheets-we're ready for anything."