Feature
/
Nov. 22, 2011
Meet Brad Johnston, printmaking alumnus and art handler for New York-based company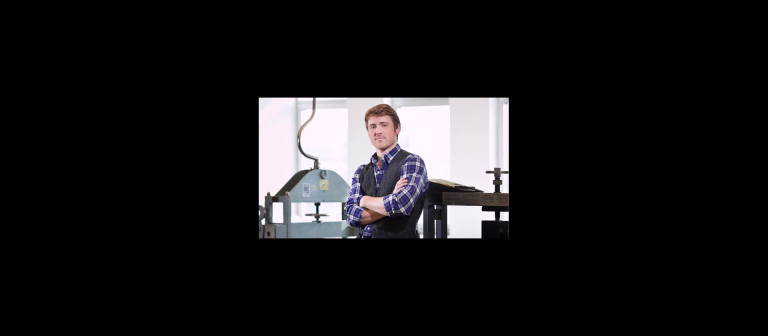 Brad Johnston uses etching and lithography to create prints, usually in black-and-white with subtle color highlights. His prints bring elements of folk art into the fine arts, drawing heavily on characters and settings from ancient mythology. Brad intends for these mythological elements of his work to make his prints seem like snapshots of stories taking place in another world, a world he describes as "kind of whimsical, kind of scary."
"What I really love about story and mythology is that it has the power to transform us psychologically," says Brad. "The history of myth is basically the psychological history of a people, group, culture or clan. And these days, I think we are lacking in overarching mythology. I want my work to help fill in this gap."
Brad has been creating art since he can remember. He discovered his passion for printmaking as an undergraduate student in Indiana, where he began creating art on presses. Later he did his own woodcuts, hand-carving the negative space for each print out of a block of wood. After graduating, he spent two years working for a pharmaceutical company, but, dissatisfied in his job, he did a one-eighty: he got married and moved to Hawaii to teach music and literature to elementary and middle school children. Once there, he realized that working in the arts clicked with his personality and he decided to explore the fine arts further in graduate school.
He remembered looking into SCAD while he was in high school, and after reading about the printmaking program, he applied as a graduate student. Immediately after he was accepted, he and his wife left their Hawaii home and moved to the city. "I'd never even been to Atlanta," Brad says. He has had no trouble adjusting, however; since his move, he has integrated himself completely into the city's art and gallery scene. At SCAD Atlanta, he finds himself constantly exploring new artistic ideas and ideals. "It's a place that has fostered growth in me," says Brad. "It's just a place where I've been able to open up, and I think that's really allowed me to be myself as an artist."
Over the course of his graduate studies, Brad experimented with printmaking techniques to broaden his skill set, taking advantage of SCAD's equipment to explore different methods. "The facilities in printmaking especially are fantastic; the best print shop I've ever seen," Brad says. "There are so many different things to offer here that I can't do them all."
Between projects, Brad has found the time to display his artwork in several shows and galleries. Just two months after coming to SCAD, Brad showed his work in SCAD's annual Open Studio event, which a prominent Atlanta art critic attended. When she saw his work, she stopped to offer in-depth commentary on the pieces he was showing. Brad describes hearing the positive feedback as "one of my formative experiences. It was really encouraging."
Most recently, Brad showed his work at Studioplex, an Atlanta gallery space, and is working on a new exhibition, which will consist of prints on giant panels. Brad is considering using the enormous prints to create a structured space that viewers can walk through. "I love just a print in a frame," Brad says. "But the art I enjoy is not always just fine art in a frame. It is interactive."
Since graduation, Brad has been working as an art handler for New York-based company James Bourlet. In this position, Brad works with private collectors and larger clients like Sotheby's in the artwork acquisition process. He plans to eventually return to teaching in the arts while he goes on creating new work to show and sell. He hopes to continue developing his own voice as an artist and storyteller while helping the next generation of artists to find theirs.