Press Release
/
Sept. 7, 2012
James Gurney gives free lecture and demonstration at SCAD Museum of Art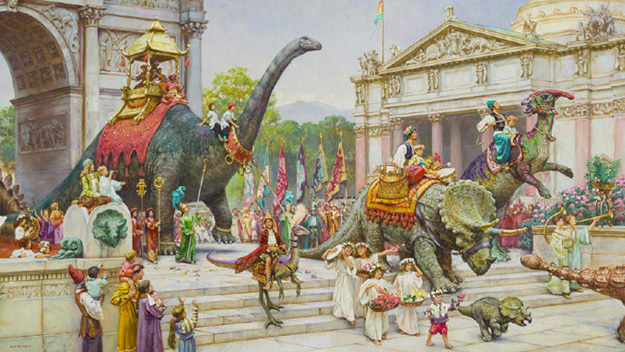 SAVANNAH, Georgia —
James Gurney, the world-renowned illustrator, painter, concept artist, writer and storyteller, best known for his illustrated book series Dinotopia, will present a free lecture at the SCAD Museum of Art on Monday, Sept. 17, 5 p.m. Gurney will discuss the way that he creates and thinks through his paintings and his world building. This will be followed by a demonstration using watercolor pencils at 6 p.m. and a book signing at 6:30 p.m.
Fictional island utopia
In Dinotopia, Gurney has created a fictional island utopia inhabited by humans and sentient dinosaurs that formed a complex, interdependent society. His work has been compared to such literary fantasists as Jules Verne and J.R.R. Tolkien.
The first book, Dinotopia: A Land Apart from Time, has been translated into 18 languages in more than 30 countries and sold 2 million copies. Entertainment Weekly called it a "fabulous fantasy a la Robert Louis Stevenson."
James Gurney work
Gurney specializes in painting realistic images of scenes that can't be photographed, from dinosaurs to ancient civilizations. He has worked on more than a dozen assignments for National Geographic magazine, painting reconstructions of Moche, Kushite and Etruscan civilizations.
Solo exhibitions of his artwork have been presented at The Smithsonian Institution, The Norman Rockwell Museum, The Norton Museum of Art, The Delaware Art Museum and other venues. His 2010 book, Color and Light: A Guide for the Realist Painter, was Amazon's #1 bestselling book on painting for more than 100 weeks.
SCAD: The University for Creative Careers
The Savannah College of Art and Design is a private, nonprofit, accredited institution conferring bachelor's and master's degrees at distinctive locations and online to prepare talented students for professional careers. SCAD offers degrees in more than 40 majors.