Press Release
/
April 18, 2012
Dr. Chan Lai Wa named one of TIME Magazine's TIME 100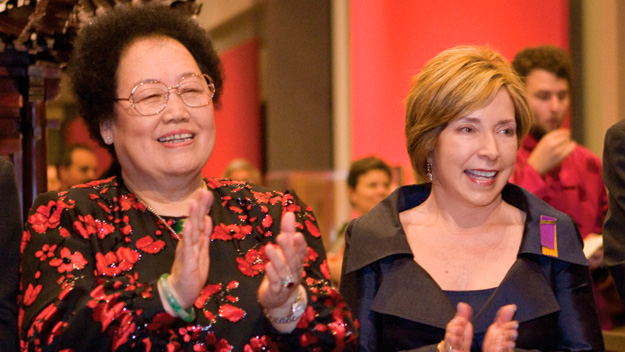 /SCAD Board of Trustees Vice Chair Dr. Chan Lai Wa and SCAD President and Cofounder Paula Wallace/
SAVANNAH, Georgia —
TIME named Savannah College of Art and Design Board of Trustees Second Vice Chair Dr. Chan Lai Wa to the 2012 TIME 100, the magazine's annual list of the 100 most influential people in the world. The full list and related tributes appear in the April 30 issue of TIME, available on newsstands April 19, and now at time.com/time100.
The list, now in its ninth year, recognizes the activism, innovation and achievement of the world's most influential individuals. As TIME Managing Editor Richard Stengel has said of the list in the past, "The TIME 100 is not a list of the most powerful people in the world, it's not a list of the smartest people in the world; it's a list of the most influential people in the world. They're scientists, they're thinkers, they're philosophers, they're leaders, they're icons, they're artists, they're visionaries. People who are using their ideas, their visions, their actions to transform the world and have an effect on a multitude of people."
Chan is a distinguished entrepreneur, diplomat and patroness of the arts who has served on SCAD's Board of Trustees for more than a decade. In 1999, she established the China Red Sandalwood Museum in Beijing, China - the first and only museum of its kind dedicated to the preservation and education of the ancient Chinese art of sandalwood carving. Chan has continuously promoted international arts education and cultural exchange and is involved with many worthy causes in Asia and abroad. In recognition of her philanthropy and profound commitment to the arts, Chan was awarded an honorary doctorate from SCAD in 1999. Chan resides in Beijing with her husband.
Follow @TIME for updates about the list on Twitter and at Facebook.com/TIME. The Twitter hashtag is #TIME100.
About TIME
TIME is a global multimedia brand that reaches more than 50 million people and includes the domestic and international magazine editions, tablet versions for iPad, Samsung Galaxy Tab, Kindle Fire and Nook Color, TIME for Kids, TIME.com and mobile. TIME.com draws 11 million unique visitors a month and has more than 3.3 million Twitter followers. TIME leads the mobile app space with more than 4.2 million total app downloads across all platforms, including iPhone, Blackberry and Android.
SCAD: The University for Creative Careers
The Savannah College of Art and Design is a private, nonprofit, accredited institution conferring bachelor's and master's degrees at distinctive locations and online to prepare talented students for professional careers. SCAD offers degrees in more than 40 majors.