Press Release
/
Aug. 8, 2012
Call for proposals now open for 16th annual US/ICOMOS International Symposium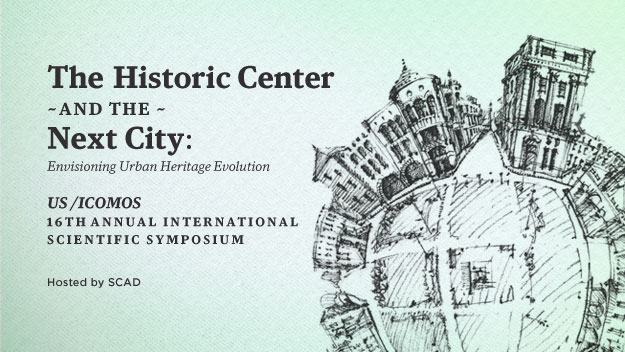 SAVANNAH, Georgia —
The U.S. National Committee of the International Council on Monuments and Sites (US/ICOMOS) is pleased to announce a call for proposals for the 16th Annual U.S. ICOMOS International Symposium, to be held May 2-4, 2013, in historic downtown Savannah, Ga. The event will be co-hosted by the Savannah College of Art and Design, an internationally recognized leader in adaptive rehabilitation and urban revitalization with locations in the United States, France, Hong Kong and online via SCAD eLearning.
The theme of the symposium is "The Historic Center and the Next City: Envisioning Urban Heritage Evolution."
"Late last year, the 35th UNESCO General Conference adopted the 'Recommendation on the Historic Urban Landscape' encouraging the espousal of a landscape approach to the study and conservation of cities within their broader urban contexts and their geographical settings," said US/ICOMOS Director Donald Jones. "The goal of the symposium is to join in a robust discussion focused on the evolution of our historic urban centers and ascertain how they provide inspiration for the future of cities around the world."
All poster and paper proposals should examine the challenges in striking a balance between the potential of historic cities for future wealth creation and innovation, with the fragile nature of a city's heritage, integrity and sense of place. Abstracts should consist of no more than 250 words and include the proposed title and author names, institutional affiliations, bios and contact information.
The conference committee requests that proposals reporting case studies go a step further to include assessments that give visions for the next city. Questions about this call for abstracts may be sent to SCAD Professor Connie Pinkerton. All proposals must be received by US/ICOMOS by Nov. 15, 2012. Sessions will be organized around three to five themes that emerge upon collective examination and a review of the most successful proposals.
Sessions will be organized as panels, with each presenter allotted time to communicate his or her argument, followed by an opportunity for all participants to discuss the issues under the guidance of a session moderator.
External reviewers will assess all proposals, and final selections will be made by the conference committee. Selected authors will be notified by Jan. 5, 2013. Draft presentations will be due to the conference committee on March 15, 2013, with all final presentations due May 15, 2013.
Additional information and event details are available online at usicomos.org or by emailing historicpreservation@scad.edu.
"SCAD is pleased to host preservationists, urban planners, architects and other stewards of our cultural heritage for this important and timely discussion," noted Jeffrey Eley, chair of the SCAD historic preservation department. "Savannah's layered histories, exquisite architecture and influential city plan provide a perfect setting to address this symposium's questions, while SCAD is an ideal host as a university woven into the fabric of one of the largest and most renowned National Historic Landmark districts in the United States. Our students, professors and alumni look forward to further advancing the research and appreciation for our nation's historic urban centers."
Since its founding in 1978, SCAD has revitalized more than 100 buildings around the world, creating inspiring communities for the study of art and design. The university has been recognized by the National Trust for Historic Preservation, the American Institute of Architects, the International Downtown Association and UNESCO, among others, for its efforts. SCAD is also home to a renowned School of Building Arts, offering the allied disciplines of historic preservation, architectural history, architecture, urban design, interior design and furniture design, encompassing approximately 1,200 students. This immersion in a professional, interdisciplinary environment engages and challenges students to take on the role of a career designer.
For more information, contact US/ICOMOS Director Dr. Donald Jones at 202.842.1866. Media inquiries may be directed to Sunny Nelson at or 912.525.5225.
International Council on Monuments and Sites
The International Council on Monuments and Sites works for the conservation and protection of cultural heritage places. It is the only global non-government organization of this kind dedicated to promoting the application of theory, methodology and scientific techniques to the conservation of the architectural and archaeological heritage. Its work is based on the principles enshrined in the 1964 International Charter on the Conservation and Restoration of Monuments and Sites (the Venice Charter).
The U.S. National Committee of the International Council on Monuments and Sites (US/ICOMOS) is one of numerous national committees forming a worldwide alliance for the study and conservation of historic buildings, districts, and sites. It is the focus of international cultural resources exchange in the United States, working to share preservation information and expertise worldwide. It also highlights and interprets the unique American preservation system: the partnership between private organizations and federal, state, and local governments, and the cooperation between the academic community, professionals and civic volunteers.
SCAD: The University for Creative Careers
The Savannah College of Art and Design is a private, nonprofit, accredited institution conferring bachelor's and master's degrees at distinctive locations and online to prepare talented students for professional careers. SCAD offers degrees in more than 40 areas of study, as well as minors in nearly 60 disciplines in Savannah and Atlanta, Georgia; in Hong Kong; in Lacoste, France; and online through SCAD eLearning.
SCAD has more than 20,000 alumni and offers an exceptional education and unparalleled career preparation. The diverse student body, consisting of more than 11,000 students, comes from all 50 United States and more than 100 countries worldwide. Each student is nurtured and motivated by a faculty of more than 700 professors with extraordinary academic credentials and valuable professional experience. These professors emphasize learning through individual attention in an inspiring university environment. SCAD's innovative curriculum is enhanced by advanced, professional-level technology, equipment and learning resources and has garnered acclaim from respected organizations and publications, including 3D World, American Institute of Architects, BusinessWeek, DesignIntelligence, U.S. News & World Report and the Los Angeles Times.