Press Release
/
July 9, 2014
SCAD Museum of Art presents 'Jack Leigh: Full Circle, Low Country Photographs, 1972-2004'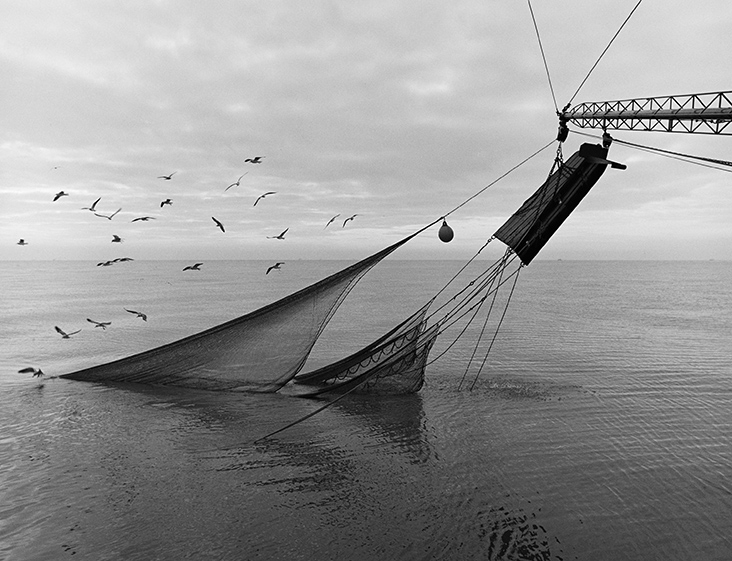 Jack Leigh, "Nets and Doors," silver gelatin print, 1986. Photograph courtesy of the Jack Leigh Estate.
SAVANNAH, Georgia —
The Savannah College of Art and Design is pleased to announce the photography exhibition Jack Leigh: Full Circle, Low Country Photographs, 1972-2004, on view from Tuesday, July 15, through Thursday, Oct. 2, at the SCAD Museum of Art. The museum is located at 601 Turner Blvd. A free public reception will be held at the museum on Thursday, July 17, from 5:30 to 7:30 p.m.
This is the first museum survey of work by the acclaimed Savannah photographer since his passing 10 years ago. Leigh is perhaps best known for his 1993 photograph Midnight, which depicts the famous Bird Girl sculpture in Savannah's Bonaventure Cemetery. Random House commissioned the image for the cover of John Berendt's 1994 novel Midnight in the Garden of Good and Evil. Leigh's photograph became synonymous with the recordbreaking success of the novel, immediately catapulting him to international acclaim.
The exhibition moves beyond the singular image of the famous statue and explores a thread of influence through Leigh's documentation of low country terrain, industries and people that are presented alongside works by photographers who inspired him, such as Eva Rubenstein, Walker Evans, Helen Levitt and George Tice. They are also in conversation with works by his contemporaries, such as Sally Mann and William Christenberry. Completing this circle of influence, the exhibition presents works by SCAD alumni Tobia Makover, Lisa Robinson, and Marcus Kenney, among others, whose practices continue to be influenced by Leigh's determined perspective.
"While the exhibition's primary aim is to explore and cement the importance of Leigh's work, it also aims to continue his legacy of inspiring a new generation of artists," said Tim Peterson, co-curator of the exhibition and chief curator of exhibitions at SCAD, "Jack Leigh served as a defining influence for SCAD students and alumni, further augmented by important opportunities at the Jack Leigh Gallery."
The exhibition also features a reading room that will provide insight into Leigh's creative process and legacy. Visitors can examine the artist's writings, annotated maps and contact sheets.
"Jack Leigh loved the South, but did not recognize how deeply his inspiration was rooted in the familiar landscapes and people of the Low Country until he returned home to Savannah later in life. He spoke of this realization often, calling it coming "full circle," says Susan Laney (B.F.A., photography, 1996), co-curator of the exhibition, and former director of the Jack Leigh Gallery. "It is this concept that is at the core of the exhibition, in Jack's spiritual return to his roots, the sources of his inspiration, and the legacy of his influence."
Jack Leigh: Full Circle, Low Country Photographs, 1972-2004 is generously supported by Mrs. Robert O. Levitt.
About the Savannah College of Art and Design
The Savannah College of Art and Design is a private, nonprofit, accredited institution conferring bachelor's and master's degrees at distinctive locations and online to prepare talented students for professional careers. SCAD offers degrees in more than 40 majors.
Media contact
For further information about this exhibition, images, or to arrange interviews, please contact:
Molly Rowe
SCAD, director of creative initiatives
912.398.1074
Ally Hughes
SCAD, director of university communications
912.525.4881
Deirdre Maher or Andy Ptaschinski
Blue Medium
212.675.1800