Press Release
/
May 9, 2014
Stephen Burrows to be honored with André Leon Talley Lifetime Achievement Award and exhibition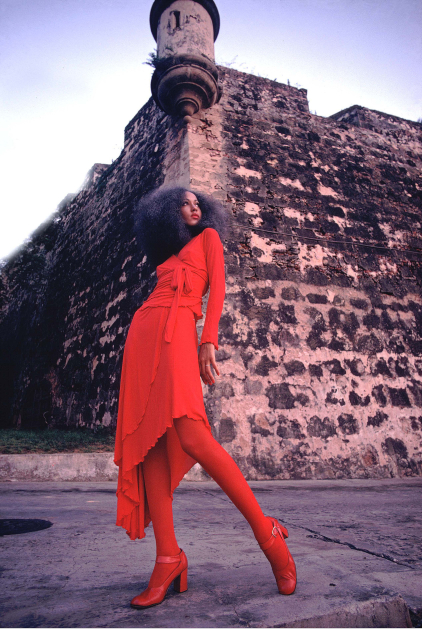 Pat Cleveland in red two-piece matte jersey skirt with wrap top and matching red stockings and shoes. Selected by Diana Vreeland. San Juan, Puerto Rico, 1972. Photograph courtesy of Charles Tracy.
SAVANNAH, Georgia —
The Savannah College of Art and Design (SCAD) presents the annual SCAD Fashion Show, a runway showcase of top student collections.  The fashion show, sponsored by Zappos, will be held at the SCAD Museum of Art on Saturday, May 17 at 4 p.m. and 8 p.m.  In conjunction with the Fashion Show, SCAD will honor fashion designer Stephen Burrows with the André Leon Talley Lifetime Achievement award and an exhibition that surveys four decades of his work.  
The SCAD Fashion Show is one of the premier student fashion shows in the country. Graduating SCAD fashion students submit their work to a juried competition for critique by designers and fashion industry professionals. Outstanding students are then invited to present their collections at the annual SCAD Fashion Show. The runway will wind throughout the museum galleries, allowing the student designs to engage with museum exhibitions and providing the audience with an up-close and intimate experience of student collections. 
At 7:45 p.m., André Leon Talley will present his eponymous Lifetime Achievement Award to acclaimed fashion designer Stephen Burrows in the SCAD Museum of Art Theater.  Because seating is limited, the award ceremony will be exclusive to SCAD students, sponsors and media.
For ticket information about, visit the Savannah Box Office online, in person at 216 Broughton St., or by phone at 912.525.5050. For those unable to attend, the 8 p.m. SCAD Fashion Show will be livestreamed.
About Stephen Burrows and An American Master of Invention
In conjunction with the award, SCAD presents An American Master of Invention, an exhibition of designs by Stephen Burrows curated by André Leon Talley. The exhibition will be on view from May 20-Sept. 15 at the SCAD Museum of Art, 601 Turner Blvd. Those who attend the SCAD Fashion Show will get an exclusive preview of the exhibition before it opens to the public. 
An American Master of Inventive Design features four decades of Burrows' groundbreaking designs.  Noted for his unorthodox color combinations, cutting-edge patternmaking, fluttery "lettuce edge" hems, and pioneering use of stretch fabrics, Burrows' carefully crafted garments reveal a deep understanding of material and the body. As Talley describes, Burrows' designs are a "joyous explosion of color", a concept which Talley has incorporated into the exhibition design itself.
From 1963 to the present, Burrows' designs have been worn by a host of fashion, film, and music icons including Pat Cleveland, Diana Ross, Cher, Naomi Campbell, Iman, Barbra Streisand, Liza Minnelli, Lauren Bacall, Kate Moss, Heidi Klum and Michelle Obama, among many others.
In addition to Burrows' designs, Talley's exhibition also features never-before-seen footage from the Battle of Versailles (generously provided by the producers of the award-winning documentary, Versailles 73: American Runway Revolution).  Held in 1973, this landmark runway extravaganza marked the first time African American models starred on a high fashion runway, put American design on the map, and forever changed the history of fashion.
The exhibition is free for all SCAD students, faculty, staff and museum members.  It is open to the public with the cost of museum admission.
About André Leon Talley
SCAD trustee and Creative Director of Zappos Couture, André Leon Talley has served as a mentor for SCAD fashion students for over a decade.  Talley began his career assisting Diana Vreeland at the Metropolitan Museum of Art Costume Institute and later wrote for Interview Magazine and Womens Wear Daily, before joining Vogue, where he served as Contributing Editor for many years. 
An American Master of Inventive Design marks the third exhibition curated by Talley at the SCAD Museum of Art, following the internationally acclaimed Little Black Dress (2012) and High Style (2011). Talley also curated Joaquin Sorolla and the Glory of Spanish Dress (2011), an exhibition of fine art and fashion at the Queen Sofia Spanish Institute in New York. 
SCAD: The University for Creative Careers
The Savannah College of Art and Design is a private, nonprofit, accredited institution conferring bachelor's and master's degrees at distinctive locations and online to prepare talented students for professional careers. SCAD offers degrees in more than 40 majors, as well as minors in more than 60 disciplines in Savannah and Atlanta, Georgia; in Hong Kong; in Lacoste, France; and online through SCAD eLearning. View our official blog.
Media contacts
Travis Martin
Krupp Group, senior account executive
212.462.4014
Molly Rowe
SCAD, director of creative initiatives
912.398.1074