Press Release
/
April 27, 2014
SCAD announces 2014 Sidewalk Arts Festival winners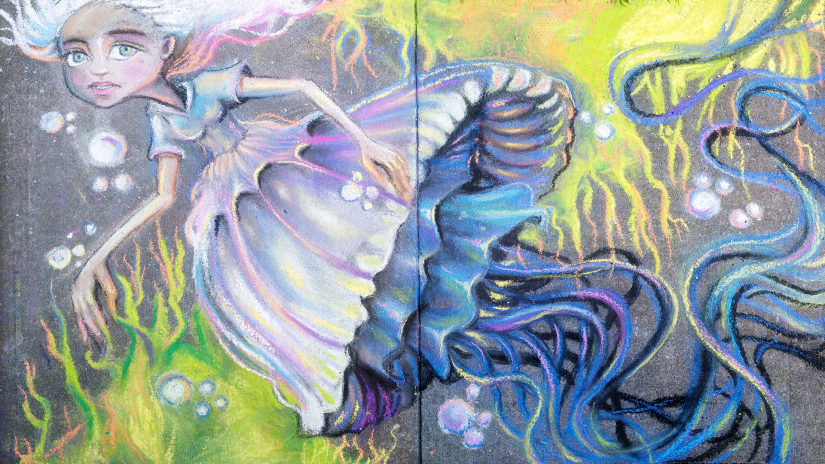 Sidewalk Arts 2014 Best in Show, Madison Berger (B.F.A., illustration, 2010) and Katie Campbell (B.F.A., graphic design, 2004)
SAVANNAH, Ga. —
Savannah College of Art and Design held its 33rd annual Sidewalk Arts Festival Saturday, April 26, in Forsyth Park. Thousands of visitors viewed temporary chalk masterpieces created on the walkways of the historic park, and approximately 1,000 SCAD students, alumni and prospective students competed for prizes.
Attendees to this year's festival were again encouraged to share their imagination and creativity through Instagram using #scadchalk.
The following is a complete list of winners:
Best in Show: Madison Burger (B.F.A., illustration, 2010) and Katie Campbell (B.F.A., graphic design, 2004)
SCAD 35th Anniversary Award: Illustration students Jordyn Moss and Taylor McCaslin and animation students Grant Whitsitt and Abigail Slupecki.
Graduate Student Award: Illustration students Sanaz Bagheraloloum Yazdani and Farnaz Koodakjahani
Gray's Reef Award: Animation student Jose Matheu and architecture student Ricardo Chiuz.
Drawing Minor Award: Animation student Laurie Murray
Student Award (Individual)
Student Award (Group)
Alumni
High School Competition
First Place: Kari Hiner
Second Place: Jessie Wilkinson
Third Place: Nicolas Moscosa
A total of 85 high school participants representing Florida, Georgia, North Carolina, New Jersey, New York and South Carolina entered the festival.
Media may call 912.525.5236 or 912.247.2574 for image requests.
SCAD: The University for Creative Careers
The Savannah College of Art and Design is a private, nonprofit, accredited institution conferring bachelor's and master's degrees at distinctive locations and online to prepare talented students for professional careers. SCAD offers degrees in more than 40 majors. Visit the official SCAD blog at scad.edu/blog.