Recognition
/
April 25, 2014
Performing arts student showcases in Los Angeles and New York highly successful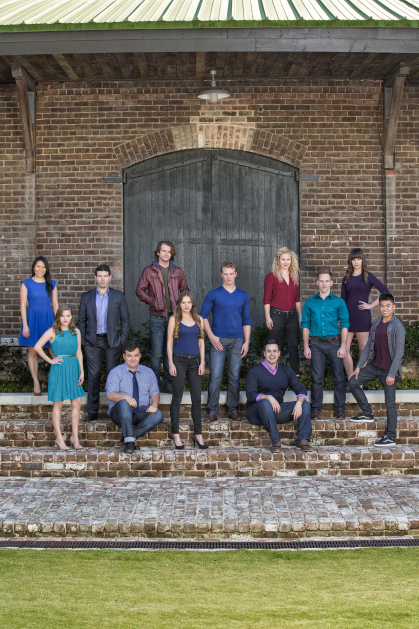 SCAD's top graduating performing arts students took to the road in March to perform two exclusive and highly successful showcases in Los Angeles and New York.
In Los Angeles:
Manager, producer and actress Lisa Gallant signed B.F.A performing arts student Rebekah Price as a client.
Fern Orenstein, vice president of casting at CBS, led a workshop with students a few hours before the show and invited B.F.A. performing arts students Matt Webb and Glenn Obrero to audition the next day for the new CBS pilot "Mysteries of Laura." She also extended invitations to four other students to audition for her CBS Diversity Showcase in the fall.
Talent manager Craig Dorfman and head of Warner Bros. casting John Power invited a total of eight students to interview.
In New York:
Abrams Artists Agency and About Artists Agency both offered to sign Austin Blunk once he relocates to New York City. Abrams currently represents SCAD alumnus Romell Witherspoon (B.F.A., performing arts, 2012).
Atlas Talent Agency signed B.F.A. performing arts senior Laura Spears.
Kris Byrd (B.F.A., performing arts, 2014) was hired as a casting intern for Laura Stanczyk Casting.
ABC Family brought in B.F.A. performing arts student Lillian McCotter for a new pilot.
Warner Bros. invited four students to read for upcoming pilots.
CBS Casting brought in 10 students to audition for CBS comedies and dramas.
Nina Pratt, casting director for national commercials for such brands as Nike and Geico, and Innovative Artists Agency both brought in four students to audition.
Mikie Heilbrun, head of New York casting at CW Network, brought in eight actors to read for current pilots.
Actor Reed Birney from Manhattan Theatre Club's production of "Casa Valentina" met with the showcase students after they attended his Broadway show to talk to them about being a working actor in New York.
Nancy Piccione, casting director for Manhattan Theatre Club, did a workshop with students to discuss auditioning for theater in New York.
Generating buzz coast-to-coast
B.F.A. performing arts senior Rebekah Price, who was signed in Los Angeles by Lisa Gallant, was brought in by NBC, AMC, CW and CBS to audition for new pilots in New York.
In LA, M.F.A. performing arts student Bethany DeZelle was cast in a small role in the film "Entourage" and spent the day following the showcase working on set. In New York, she signed with About Artists Agency.
Craig Dorfman committed to signing Matt Webb after Webb's overwhelmingly positive response both in New York and Los Angeles. Webb also was called in to read for pilots in both New York and Los Angeles, and met with Harden Curtis Agency.
Jessy Stowers (B.F.A., performing arts, 2014), who served as showcase coordinator, interviewed and was offered a job at reality television production company T Group Productions as a casting assistant in LA. She accepted another offer by Paradigm Talent Agency in NYC, where she was hired as a talent agent assistant.
SCAD performing arts students continue to receive praise from leading talent agents and casting directors in the industry:
"This is the most polished and talented group to showcase in this town in years. The pace was quick [and] the smartly chosen scenes showcased each talent, making it easy to see everyone in the group was castable."
"This is the most professional and slick showcase there is going. Out of the several top schools we attend, SCAD consistently showcases the most castable and prepared group of actors."   
"I wish all showcases were as electric and well directed and acted as SCAD's."
"I am blown away by how savvy and professional your students are in the meetings. Whatever you are teaching them at SCAD, you are turning out the most impressive new actors coming out of showcase season."